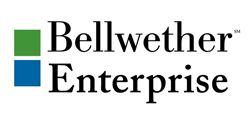 Cleveland, OH (PRWEB) June 08, 2016
Bellwether Enterprise Real Estate Capital LLC (Bellwether Enterprise), the commercial and multifamily mortgage banking subsidiary of Enterprise Community Investment Inc. (Enterprise), today announced the hiring of commercial real estate veteran Todd Harrop as executive vice president and national director of capital markets for market rate products. Mr. Harrop will be based in Bellwether Enterprise's Columbus office and be responsible for overseeing all of the company's nationwide market rate transactions.
Prior to joining Bellwether Enterprise, Mr. Harrop worked for 25 years at Nationwide Insurance, where he managed the firm's commercial mortgage loan and mezzanine and equity originations, as well as its commercial real estate portfolio totaling approximately $11 billion. He also supervised the company's third party loan participation program, loan servicing, and real estate research. Outside of his professional life, Mr. Harrop extends his industry knowledge and service to his alma mater The Ohio State University, where he serves as a board member for the Center for Real Estate.
"Todd has had an excellent track record in commercial real estate over the past two decades," said Ned Huffman, president of Bellwether Enterprise. "He brings a unique and valuable perspective to our organization and his experience will make him an invaluable asset to our clients. I am thrilled to welcome him to our Columbus office and to our national team."
"I am very excited to be joining an industry leading commercial and multifamily mortgage capital firm with such strong lender relations and a client-centered approach," said Todd Harrop. "I look forward to bringing my prior experiences to Bellwether Enterprise as the company continues to expand across the country." Throughout his career, Mr. Harrop was an integral part of financing more than $30 billion of commercial mortgage loans.
Bellwether Enterprise provides flexible financing solutions for clients covering the entire spectrum of commercial and multifamily real estate. For more information on Bellwether Enterprise's services, visit us at: http://www.BellwetherEnterprise.com.
-#-
About Bellwether Enterprise:
Bellwether Enterprise is a national, full-service commercial and multifamily mortgage banking company. As a subsidiary of Enterprise Community Investment, Bellwether Enterprise has production offices across the country and an integrated servicing platform based in Cleveland. With local market expertise, national lending relationships and financing structure experience, we provide clients with competitive, creative solutions for their financing needs. Bellwether Enterprise provides loans for a range of institutional investors including life insurance companies, pension funds, commercial banks and CMBS lenders and is a direct Special Fannie Mae Delegated Underwriting and Servicing (DUS®) lender, Freddie Mac Targeted Affordable Housing lender and Program Plus®Seller Servicer, Federal Housing Administration (FHA) approved Multifamily Accelerated Processing (MAP) lender and U.S. Department of Agriculture (USDA) Section 538 Rural Development lender.
###