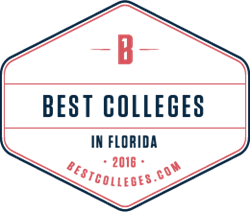 Houston, TX (PRWEB) June 09, 2016
BestColleges.com has released its 2016 rankings of the top two-year, four-year, and online colleges in Florida. A comprehensive methodology informed all three lists; specific metrics considered include affordability, enrollment and graduation rates, student outcomes and other statistical data from the National Center for Education Statistics (NCES). The rankings are designed to help college-bound men and women explore academic opportunities throughout the Sunshine State.
Each ranking begins with background information about the history and current state of Florida's higher education system. The four-year guide notes that Florida is a suitable academic destination for a wide range of students. Florida is home to some of the nation's top state universities, as well as numerous private and religion-based colleges for those who desire a more intimate postsecondary experience. The caveat is that college-bound high school students must maintain a high grade point average in order to compete with other candidates; Florida State University, for example, only admits 55% of applicants, and the average admitted student carries a 3.92 GPA.
This year's ranking features the University of Florida in the top spot. New College of Florida, University of Miami, University of South Florida, and Florida State University round out the top five.
Coverage of online education in Florida highlights the prevalence of web-based learners statewide, with more than 150,000 undergraduates and 68,000 graduate students enrolled in fully-online degree programs. An additional 8,500 students were enrolled in online vocational or technical training programs that do not culminate in a degree. In addition to the four-year university ranking, the University of Florida ― a pioneer in the field of web-based education ― took the top spot here as well. University of Central Florida, the state's largest school by enrolled student population, nabbed second place. University of West Florida, University of South Florida and Florida State University also placed within the top five.
The top 10 schools of all three categories are listed below.
Best Two-Year Colleges in Florida
1. Indian River State College - Fort Pierce, FL
2. North Florida Community College - Madison, FL
3. Eastern Florida State College - Cocoa, FL
4. Palm Beach State College - Lake Worth, FL
5. Valencia College - Orlando, FL
6. Chipola College - Marianna, FL
7. Pasco-Hernando Community College - New Port Richey, FL
8. Northwest Florida State College - Niceville, FL
9. Florida Gateway College - Lake City, FL
10. College of Central Florida - Ocala, FL
Best Four-Year Colleges in Florida
1. University of Florida - Gainesville, FL
2. New College of Florida - Sarasota, FL
3. University of Miami - Coral Gables, FL
4. University of South Florida - Tampa, FL
5. Florida State University - Tallahassee, FL
6. University of Central Florida - Orlando, FL
7. University of North Florida - Jacksonville, FL
8. Rollins College - Winter Park, FL
9. Stetson College - DeLand, FL
10. Beacon College - Leesburg, FL
Best Online Colleges in Florida
1. University of Florida - Gainesville, FL
2. University of Central Florida - Orlando, FL
3. University of West Florida - Pensacola, FL
4. University of South Florida - Tampa, FL
5. Florida State University - Tallahassee, FL
6. Florida International University - Miami, FL
7. University of North Florida - Jacksonville, FL
8. The Baptist College of Florida - Graceville, FL
9. Jacksonville University - Jacksonville, FL
10. Remington College-Heathrow Campus - Heathrow, FL