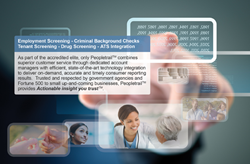 SHRM annual conference is the largest HR event in the world. Peopletrail is thrilled to connect with customers and share the importance of selecting an employment screening firm who provides accuracy, timeliness, compliance and customer satisfaction.
SLC, UT (PRWEB) June 08, 2016
Peopletrail announced today it will attend the Society for Human Resource Management (SHRM) convention, June 19-22, 2016 in Washington DC. The Company will share at the conference its educational campaign to industry on the significant differences found between screening services and will feature its fully accredited Actionable Insight Screening services for employment screening, criminal background checks, and corporate security solutions.
"SHRM is a great organization that brings together the human resource (HR) community and many of the key decision makers within HR. We're excited for the networking that SHRM provides and the opportunity we have to connect with current and future customers to discuss the added value that Peopletrail provides with our background check and screening services," stated Wallace T. Davis, President and CEO of Peopletrail.
Peopletrail will be building upon its national awareness campaign to educate industry on the significant differences between background screening services. There tends to be a myth communicated in the industry that "a background check, is a background check, is a background check." But contrary to popular belief, not all background checks are the same. It's important to find a provider that is focused and consistently delivers upon accuracy, compliance, timeliness and customer satisfaction to each of its clients.
Attendees can visit Peopletrail at booth #722 to learn more and receive one of four instant prizes given to attendees throughout the event. There will also be daily prize drawings at the booth and entry into a grand prize drawing at the closing of the event.
Customers can learn more about Peopletrail and schedule a complimentary consultation by visiting the company's web site at Peopletrail.com or by calling the company directly at 866.223.8823
About Peopletrail
Peopletrail is a leading provider of custom employment, tenant and drug screening solutions, criminal background checks, ATS integrations, and corporate security services.
As part of the accredited elite, only Peopletrail combines superior customer service through dedicated Account Managers with efficient, state-of-the-art technology integration to deliver on-demand, accurate and timely consumer reporting results. Trusted and respected by government agencies and Fortune 500 to small up-and-coming businesses, Peopletrail provides actionable insight you trust.