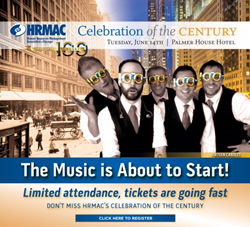 "HRMAC's founding fathers created a lasting framework that has, and continues to, foster inspiration and fellowship," noted M. Bernadette Patton, HRMAC president and ceo.
Chicago, IL (PRWEB) June 09, 2016
The Human Resources Management Association of Chicago invites you to join in celebrating its 100th anniversary at the Celebration of the Century, Tuesday, June 14, 2016 at the Palmer House Hotel in Chicago, IL, from 5:00-7:30 p.m.
The evening will celebrate 100 years of inspiration with opportunities to connect with key HR leaders, network with friends and new acquaintances, capture memories at interactive photo areas, win door prizes, and take home a swag bag.
There will be live entertainment by Sixteen Candles, as well as "Best of Chicago" inspired food stations, a full range of beverage options, and delectable desserts.
HRMAC was started in the spring of 1915 by businessmen from leading Chicago institutions who gathered to share acquaintances, mutual benefits and exchange industry knowledge.
Now 100 years later, as the oldest HR organization in the country and with an unmatched tradition of fellowship, education and leadership, HRMAC is proud of its history of partnership with the Chicago business community.
For the entire year-long celebration leading up to this celebratory event, HRMAC has initiated new programs and benefits to celebrate this milestone.
This celebration will be the networking event of the year allowing members of the HR community to connect with colleagues, celebrate HRMAC's history, and inspire our future. The same venue was the site of the organization's 25th anniversary in 1940.
The Chicago City Council has proclaimed June 14, 2016 to be Human Resources Management Association of Chicago Professional Day.
For tickets, event details and more, visit http://www.hrmac.org.
#HRMAC100, #HRMAC
@ChicagoHR
Human Resource Management Association of Chicago
HRMAC is a forum for human resources leaders, practitioners, service providers and business executives charged with designing and delivering workforce strategies to drive superior business performance in the organizations they serve. HRMAC's mission is to serve as a thought leader and recognized authority on workforce developments impacting the Chicago area business community by providing high quality, state-of-the-art learning and development opportunities for the Human Resources community.
# # #