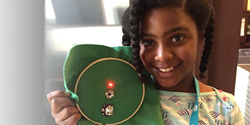 Alexa Café not only excites young girls about coding and engineering, but it also incorporates the importance of supporting a social cause.
Campbell, CA (PRWEB) June 08, 2016
This summer Howard and Lynn Behar are sponsoring a one week Girls in STEM (science, technology, engineering and math) program at Alexa Cafe held at the University of Washington. The world needs more women in STEM fields. It's important to get girls excited when they're young. Women make up about half of the workforce, but fewer than 14% of Computer Science undergrads and less than 26% have a STEM job.
The Behars are doing something about it by providing 40 girls from the Tacoma and Highline School Districts the opportunity to attend Alexa Café. During the week of August 15th, girls ages 10-15 will learn coding, develop wearable electronics, design video games, and build websites. What's exciting is that they'll complete a tech project that focuses on a social cause which is meaningful to them. Through this experience, they'll see firsthand that STEM can really make a difference in the world.
"We are doing this to give girls who otherwise would not have the opportunity to attend a summer tech program," said Lynn Behar. "We want all children to benefit from this experience so they can contribute to our society."
"It's simple. What you put into your life is what you get out of it," said Howard Behar. "Alexa Café not only excites young girls about coding and engineering, but it also incorporates the importance of supporting a social cause."
"We designed Alexa Café as a collaborative, cafe-style environment blended with the inspiration of strong female role models," said Pete Ingram-Cauchi, CEO, iD Tech. "The emphasis is on entrepreneurship, leadership, and philanthropy, so we couldn't be more pleased that Howard and Lynn share our vision."
Alexa Café is named in honor of the company's co-founder, Alexa Ingram-Cauchi. Alexa was a pioneer; she and her mom, Kathryn Ingram, created iD Tech in 1999. Summer tech programs weren't popular back then and they certainly weren't started by women. The company has always had a strong emphasis on empowering girls in STEM learning. This is reflected in its 205% increase in the number of girls who attended an iD Tech program from 2013 to 2015. Last summer, over 10,000 girls participated, and this year 12,000 are expected. iD Tech also has strong roots with the University of Washington since both Alexa (Class of 1993) and her brother Pete (Class of 1995) are UW graduates.
The Behars' commitments are to the University of Washington Foundation, UW School of Social Work, and the UW Business School mentoring program. Howard is a Trustee for the Sheri and Les Biller Family Foundation. They are committed to the development and education of our future leaders and have been longtime advocates of the Servant Leadership Model. Howard has authored two books It's Not About the Coffee and the newly released The Magic Cup.
To many, satisfaction is a good Starbucks latte or espresso. Now 40 Seattle area girls, will be filling their cup with the understanding of the importance of giving back. By the end of their week at Alexa Café, they'll discover how technology is a great conduit for helping to make a difference in the world.
Download Alexa Café Assets https://drive.google.com/open?id=0B11e9sFqcAN4THdoLXpBLWdOQ1E.
To learn more, visit http://www.AlexaCafe.com.
Please advise if you're interested in scheduling a visit this summer to see the program in action, meet the girl participants, and interview Howard and Lynn Behar.
# # #
ABOUT iD TECH
iD Tech is the leader in summer STEM education programs for students ages 6-18, with over 235,000 students who have attended iD Tech since 1999. Students solve engineering challenges, learn programming, code apps, build robots, design video games, and more. Programs are held at over 100 prestigious campuses nationwide, including the University of Washington-Seattle, the University of Washington-Bothell, University of Puget Sound, the Eton School, Stanford, Rice, Caltech, Yale, Princeton, and many others. In addition to Alexa Café, there are 4 other iD Tech summer STEM programs held nationwide: iD Tech Camps (weeklong, all-girls, ages 7-17), iD Tech Mini (weeklong, co-ed, half-day options, ages 6-9) as well as teen academies iD Programming Academy and iD Game Design & Development Academy (2-week, pre-college, co-ed, ages 13-18). To learn more, visit iDTech.com.