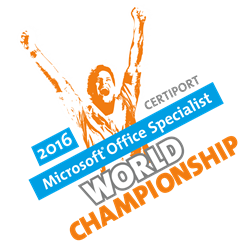 Salt Lake City, Utah (PRWEB) June 08, 2016
Certiport, a Pearson VUE business, today announced they have received more than one million exam entries from 120 countries for the 2016 Microsoft Office Specialist (MOS) World Championship, the popular technology skills competition on Microsoft Office. The milestone comes two weeks before the competition closes, at which time regional competitions all over the world will award top finalists with the chance to compete at the MOS World Championship in Orlando, Florida, August 7-10, 2016.
"Every year since the MOS World Championship began in 2002 the number of entries has grown, now reaching the amazing milestone of one million entries," said Aaron Osmond, general manager, Certiport, a Pearson VUE business. "When these students say they are the best in the country, or the best in the world at using Microsoft Office, they aren't talking about an insignificant victory. They are in the top echelon of students who have mastered the Microsoft Office programs and can use them effectively in the real world."
Students age 13 to 22 can qualify to participate in the MOS World Championship by earning a passing score on one of the following MOS certification exams before June 15, 2016: MOS Word 2010, MOS Excel 2010, MOS PowerPoint 2010, MOS Word 2013, MOS Excel 2013 and MOS PowerPoint 2013. For more information visit http://www.MOSchampionship.com.
Certiport, the sole provider of Microsoft Office Specialist certification exams officially endorsed by Microsoft, works with thousands of educators around the world to help individuals prepare for career and college success.
"We have seen the positive impact of Microsoft Office certification on students around the world including concrete results such as internships and jobs," said Craig Bushman, vice president, marketing, Certiport. "Only Certiport is authorized to provide students with a certificate signed by the technology leader, Microsoft, that proves their aptitude in Microsoft Office."
About Certiport
Certiport, a Pearson VUE business, is the leading provider of certification exam development, delivery and program management services delivered through an expansive network of over 14,000 Certiport Authorized Testing Centers worldwide. Certiport manages a sophisticated portfolio of leading certification programs including: the official Microsoft Office Specialist certification program, the Microsoft Technology Associate certification program, the Microsoft Certified Educator program, the Adobe® Certified Associate certification program, the Autodesk Certified User and Autodesk Certified Professional certification programs, the Intuit QuickBooks Certified User certification program, and the IC3 Digital Literacy certification. Certiport reliably delivers over three million tests each year throughout the secondary, post-secondary, workforce, and corporate technology markets in 148 countries and 26 languages worldwide. For more information, please visit http://www.certiport.com or follow Certiport on Twitter at http://www.twitter.com/certiport.
"Certiport" and "IC3" are registered trademarks of NCS Pearson, Inc. in the United States and other countries. The names of actual companies and products mentioned herein may be the trademarks of their respective owners.