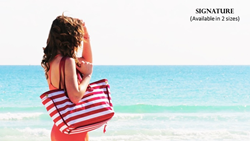 It's one thing to believe you have a great product, but having consumers buy in with such overwhelming numbers is the ultimate satisfaction
Chicago, Ill. (PRWEB) June 08, 2016
DEZZIO, a beach bag designed to make the beach experience and outdoor activities more organized and enjoyable with numerous cool features including a cooler pocket, USB ports, 10 utility pockets and a sand-discharge mesh, has surpassed its crowdfunding goal by more than $25,000.
Pre-orders at discounted prices for consumers are now available on Indiegogo InDemand, a platform for successful crowdfunding campaigns that allows inventors and creators to continue to fulfill demand from new backers.
"It's one thing to believe you have a great product, but having consumers buy in with such overwhelming numbers is the ultimate satisfaction," said DEZZIO LLC Co-Founder Aditi Agarwal. "With people getting ready for the summer vacation season, we have the perfect bag for the best time of the year."
DEZZIO is the ultimate beach bag, that keeps smartphones, wallets, sunglasses, valuables and all personal items at the beach safe from the sand and water. With its optional built-in USB power charger, DEZZIO ensures that iPhones, tablets and other electronics never run out of power while users are enjoying the outdoors.
The exclusive DEZZIO design offers separate pockets for clothes, flip-flops, sun glasses, water bottles, electronic devices and other items so users can avoid dumping everything into a single area. Wet towels are kept separate from other beach necessities – and its discharge mesh ensures sand is kept separate from other items, as well.
DEZZIO is available for pre-order on Indiegogo InDemand with special early-bird pricing from $69. It comes in three styles and different sizes for men, women and families and is perfect for the beach and beyond.
About DEZZIO
DEZZIO LLC is a Chicago-based product design firm that creates innovative designs for fashion products to enhance the experience of the end-user. Co-founded by Aditi Agarwal, a fashion expert with an extensive experience in Fashion Technology and a Master's in Fashion Marketing from ESMOD Paris, DEZZIO has launched the World's First Functional Beach Bag on Kickstarter. Akshay Jain, Co-founder of DEZZIO, has a background in Investment Banking and is currently pursuing his MBA from the prestigious Kellogg School of Management at Northwestern University.