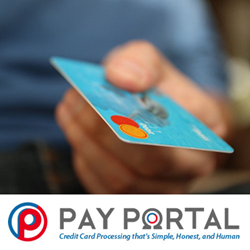 PayPortal is a signficant new approach to online payment processing services offered to digital merchants - no hidden fees, high customer service.
Fairfax, VA (PRWEB) June 11, 2016
Payment processing industry veterans Peter Groff and Terry Koepsell are proud to announce the launch of their new startup venture, PayPortal.
PayPortal is a flat-rate, online & wireless credit card payment processing product conceived out of the recognition that industry-wide pain points and complexities have become too burdensome for most businesses. PayPortal has partnered with EVO to offer a flat rate product at 2.79% + $0.30 per transaction, with absolutely no hidden fees that can build up and inflate monthly bills while complicating them.
This is an extremely unique value proposition in the online payment processing industry, to large, small and startup businesses. PayPortal is also structured to support traditional customizable pricing options.
The launch of PayPortal is addressing the complicated and costly nature of payment processing by completely eliminating startup fees, early termination fees, tiered pricing, PCI compliance and non-compliance fees - as well as offering a free payment gateway. All these unique benefits and features are now available for just $10 per month.
Another payment industry issue that PayPortal is addressing concerns insufficient or non-existent customer service. PayPortal members will have 24/7 access to a dedicated account representative who will act as their complimentary advocate for any payment processing issues. This ensures that business owners can focus on running their business, engaging new customers - instead of waiting and being bounced from department to department on the phone.
PayPortal is a simple, online payment processing solution that can save members both time and money. The sign-up process takes just minutes, and prospective members who have questions are encouraged to contact the company to speak with a representative at 1 877-670-2018, or visit them online at http://payportal.digital/.
Located in the metro Washington DC region of Northern Virginia, PayPortal is a small business and payment processing company dedicated both to the community and to the success of like-minded business owners. Peter Groff and Terry Koepsell are proud to launch their product amid innovative and fast-growing regional economic powerhouses of Reston and Tysons Corner, VA, in the Fairfax/Loudoun Dulles Technology Corridor. PayPortal serves clients nationally, and is now bringing the ethics, honesty, and transparency of successful small businesses to market with the intent of revolutionizing the industry.
View the guide to purchasing merchant services here: http://payportal.digital/payportal-is-honest/. Read more about Peter and Terry here: http://payportal.digital/about-us/.