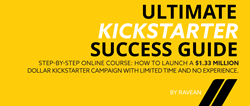 In our course, and in all the resources we provide, we share the path we took to succeed with our campaigns so others can avoid the costly learning curve and implement best practices from the get go
Provo, UT (PRWEB) June 08, 2016
Seven Figure Funding's Ultimate Kickstarter Success Guide has taken off in popularity helping over 100 crowdfunding campaigns follow the marketing steps for crowdfunding success. Bryce Fisher and Seven Figure Funding is now sharing the Crowdfunding Resources that helped the Ravean heated jacket campaign raise $1.33-million from 6,480 backers, one of the top-3 biggest apparel campaigns in Kickstarter history.
Seven Figure Funding's Top Ten Resources for Kickstarter Success:
1. Kickstarter.com
Reverse engineering past successful Kickstarter projects is one of the most important things you can do to guarantee success. Go to Kickstarter and study successful projects and what they did to be successful.
2. Kicktraq.com
In order to reverse engineer Kickstarter projects, Kicktraq analytics tools let you dive into other creators' campaigns and understand how their campaign went.
3. Backerclub.co
This is an elite group of serial Kickstarter backers. Get your project in front of this group. Clients say that this is one of the Highest ROI activities they do.
4. Kickbooster.me
Kickbooster allows you to build an affiliate marketing system. Basically you create an incentive to give to people who share your project to help make sales.
5. Untorch.com
This app helps start a viral email spread of your campaign and helps you track and facilitate the spread.
6. Crowdcrux.com
The best crowdfunding blog out there. Lots of tips, tricks, and hacks to help you avoid the inevitable pitfalls.
7. Crowdstack.me
Crowdstack is a toll that was put together by Kickbooster. It is an accumulation of all the resources for Kickstarters out there. It costs some money, but extremely helpful.
8. Backerkit.com
This is the best post-campaign tool in the market. It helps you manage all your CRM, keep your pledges straight, and mark what status each backer's order is in. It also helps with upselling during fulfillment.
9. Krowdster.co This is a giant backer and media database. If you need backer contacts and/or media contacts, this is a great resource.
10. Backershub.com This is kind of like Backerclub, but they offer creators resources that and packages that help spread the word about your campaign.
"We believe in sharing what worked best for us to help future crowdfunding campaign creators be as efficient and effective as they can, leading up to, during and after their crowdfunding campaigns," said Seven Figure Funding Founder Bryce Fisher. "In our course, and in all the resources we provide, we share the path we took to succeed with our campaigns so others can avoid the costly learning curve and implement best practices from the get go."
Beyond its flagship Kickstarter course, Seven Figure Funding has expanded its support for crowdfunders offering free weekly Q&A sessions along with a dedicated Facebook group where entrepreneurs can learn before they launch.
"Launching a crowdfunding campaign is very expensive and incredibly time consuming so you want to give yourself every advantage and learn from those who succeeded before you launch," added Fisher.
Seven Figure Funding is an online course available for a limited time at a discounted price of just $99. It includes a 30-day money back guarantee. For more information and to order visit: SevenFigureFunding.com
About Seven Figure Funding
Let's face it, no money no talk when it comes to a startup, and we know that better than anybody. We started Seven Figure funding to help other businesses find the money they need to create and launch a successful business. Our mission is to provide the resources and education that will give you with the ability, know-how and tools to go out and find the money you need to fund your dreams. Seven Figure Funding was founded by the creators of the highly successful Ravean Heated Jackets Kickstarter campaign. Ravean raised $1.33M on Kickstarter, $100,000 in up sales following Kickstarter, and another $170,000 on Indiegogo. Grossing $1.6 million in 5 months.
Upon the completion of Ravean's successful crowdfunding run, the Ravean team was literally bombarded with hundreds of questions a week about how to run a successful crowdfunding campaign. That was when Seven Figure Funding was born. This course and company was built to help others have the same success as we did.