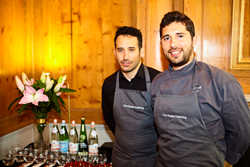 One thing that we have tried to do is approach catering and dining with a new minimalist paradigm that focuses attention on flavours and presentation
London (PRWEB UK) 10 June 2016
The Michelin mark represents the highest calibre of services and goods. Two native Italian brothers who hold this esteemed title already have an established catering company that specialises in high end clientele.
Bledi and Rigels Tufa have established themselves with new flavours, a bespoke menu and a complete reinvention of the "fine-dining" concept.
"One thing that we have tried to do is approach catering and dining with a new minimalist paradigm that focuses attention on flavours and presentation," said Bledi Tufa.
Bearded, tattooed and freshly arrived from the continent, the duo quickly established themselves within the high end dining and catering communities in and around London.
"London was the perfect place to establish our catering services. The cultures and differences in food and attitudes toward food meant we had to do something different. We have managed to do that with a solid backing from Michelin," said Rigels.
In addition to their luxury catering services, they have also provided personal chef services and are well-established within the London fine dining groups.
Their dishes transcend the dull and mundane. Their fully bespoke catering services tie European and Asian flavours in a gastronomical experience that leaves many wanting more. Their fortune has allowed them to expand and hire additional chefs, sushi chefs in particular.
"The sushi and sashimi was to satisfy the tastes of London's growing sushi enthusiasts. We are still featuring the same tastes of Italy my brother and I grew up eating. We also looked into other regions of Italy looking for the different pasta styles to incorporate into our dishes," continued Rigels.
As Michelin trained chefs, the duo learned the traditional culinary skills necessary for mastery of French cooking. Once they were on their own, all bets and training was off. They set out to blaze their own paths and have done so with considerable success. This path includes innovative dishes combined with a traditional Italian rustic approach.
"We grill our meat and fish on a Robata grill and then lightly season. This approach brings flavour from the wood and smoke instead of the seasoning," said Bledi.
Besides the food, the Tufas are moving away from the standard wines and drinks. They are constantly looking for artisanal and organic vineyards that are known for small batches of careful chosen and crafted wines that produce extraordinary flavours and palettes.
"There is a producer in the Basilicata region that we love. The craft beer phenomenon has crept into London as well, and we are looking for brewers to create draughts that meet our exacting standards and customer desires," said Rigels.
The success of their catering and private chef experience has forced the duo to raise the bar. Plans are to open a restaurant in East London's Royal Arsenal. The small, eighteen-seat establishment will feature many of their choice dishes from the catering menu in addition to a full wine and beer list. Learn more about the food, duo and restaurant at http://www.congustocatering.co.uk/
e: info(at)congustocatering(dot)co(dot)uk w: http://www.congustocatering.co.uk t: 02071128544
Social:
Instagram https://www.instagram.com/con.gusto.catering/
twitter : @ConGustoTweets
Facebook https://www.facebook.com/congustocateringlondon/