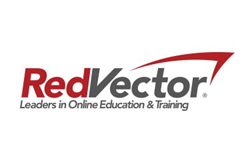 Effective assessment is the starting point for improving the competency level and ultimately the performance of employees, new hires or students
Tampa, FL (PRWEB) June 08, 2016
RedVector, the leader in eLearning and industrial skills training, has added competency assessments to its award-winning Learning Management System to help companies establish a foundation for more effective learning and development plans and training measurement.
A learning and development program is only as strong as the foundation of its skills assessment capabilities. Throughout the training process the trainee's mastery of subject matter needs to be evaluated. RedVector's competency assessments identify the skills gaps between your employee's existing knowledge, skills and abilities vs. their development goals. The tool complements existing RedVector task verification functionality, which validates employees' hands-on mastery of subject matter.
Using the Competency Assessment Tool, customers may choose from thousands of test questions cross-referenced to RedVector courses to identify skills deficiencies on an organizational or individual level. Based on the results of the assessment tests, training curriculums can be assigned to correct weaknesses in the following areas:

Basic Skills
Health, Safety and Environment
Laboratory Operations
Process Operations
Electronics
Instrumentation and Control
Electrical Maintenance
Mechanical Maintenance
Power Generation
Transmission and Distribution
Professional Development
"Effective assessment is the starting point for improving the competency level and ultimately the performance of employees, new hires or students," said Dan McGonegle, RedVector Product Director. "The Competency Assessment Tool helps do that more efficiently by providing a turnkey solution for identifying and assigning employees only the training they need, thereby improving training ROI."
Learn more about competency assessments by reserving a seat for RedVector's instructional webinar June 23.
About RedVector
A division of Vector, RedVector sets the standard for excellence in online continuing education and training for the architecture, engineering, construction (AEC), industrial and facility management industries and holds nearly 100 state and national accreditations. RedVector offers individual courses as well as large-scale corporate training solutions featuring customizable and easily accessible online universities with a full range of tracking and reporting features. With an online library exceeding 2,250 courses authored by more than 100 subject matter experts, RedVector serves professionals and organizations in all 50 states. The recipient of numerous community honors and industry awards, RedVector was founded in 1999 and is headquartered in Tampa, Florida. For more information, call 1-866-546-1212 or visit http://www.RedVector.com.