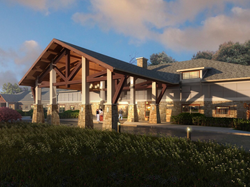 "We look forward to seeing both the caregivers and our future residents Thrive in an environment that is radically different" - Jeramy Ragsdale, Founder and CEO of Thrive
Columbus, GA (PRWEB) June 10, 2016
Columbus, GA based Flournoy Development Company and Atlanta, GA based Thrive Senior Living announce the development Thrive at Green Island, an assisted living and memory care community in Columbus GA. Flournoy will act as the lead developer on the project, and Thrive Senior Living will operate the community.
Thrive at Green Island will be the first of its kind in Columbus, offering a very unique and innovative approach to senior living. Focusing on resident engagement in connectivity in a resort-quality environment, Thrive at Green Island will use a blend of technology, highly trained care teams, and southern hospitality to create a senior living experience "like you've never seen before".(TM)
Thrive at Green Island will include all of the amenities expected when senior living communities come to mind, but will feature some unexpected offerings as well. The Wellness Center, for example, will feature advanced pneumatic fitness equipment designed for seniors, which have large touch-screen controls, and easy access for those with limited mobility.
The 70 unit community will feature meeting and entertainment venues, healthcare facilities, a spa, salon, and world class dining. Licensed as an assisted living community, Thrive at Green Island will cater to seniors ranging from those who are completely independent, to those who need more care. There will be two separate and distinct neighborhoods within the community, one for Assisted Living and an adjacent Memory Care area dedicated to serving residents with varying levels of dementia. Using specialized technology and a focus on engaging each resident at their level of cognitive ability, Thrive's highly trained care team aims to give meaning and a high quality of life to residents and to their families.
"There are some very passionate and gifted people in Columbus caring for seniors in somewhat dated environments. We look forward to seeing both the caregivers and our future residents Thrive in an environment that is radically different – using technology and some very innovative tools to improve quality of life in a huge way," says Jeramy Ragsdale, founder and CEO of Thrive.
Tom Flournoy of Flournoy Development Company says, "We are proud to announce the development of Thrive at Green Island. A place where the latest in senior care technology will be used to provide state of the art assisted and memory care service delivered in an environment specifically designed to enhance the engagement and wellness of seniors in our hometown of Columbus. Through our collaboration with Thrive Senior Living, we will help fill the growing need for quality, residential care for seniors in our community.
Located at the intersection of River Road and Mobley Road on the northwest side of Columbus, the community will break ground in late 2016 and open in late 2017. A welcome center will open for future resident and team member inquiries in the spring of 2017.
Flournoy Development Company is one of the largest private developers of institutional quality apartments in the United States. Founded in 1967, the vertically integrated development company has completed the construction of more than 41,000 apartment units. In 2015, Flournoy Development Company was ranked number 19 among the nation's top developers by the National Multifamily Housing Council.
Thrive Senior Living is an owner, operator, and developer of world-class senior living communities throughout the US. Recognized as one of the fastest growing and most innovative companies in the senior living industry, Thrive serves over 1,000 residents in 18 communities, and provides employment for over 500 team members.
For further information, call 404-890-7988 or email hello(at)thrivesl.com