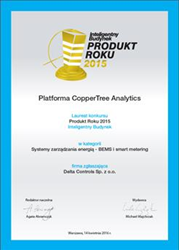 Kaizen ...allows us to focus our efforts in the areas that matter most, saving time and money for our customers."
Surrey BC (PRWEB) June 10, 2016
CopperTree is proud to share with its customers, partners and friends that it has won Intelligent Building Magazine's Product of the Year in the category of Building Energy Management and Smart Metering. CopperTree's Kaizen building analytics solution helped improve the energy efficiency of several buildings in Warsaw. Inteligentny Budynek (Intelligent Building) Magazine used a public voting mechanism to determine the most popular product in each category.
Novel Approach to Energy Management
Andrzej Kołodyński, Managing Director of Delta Controls Sp z o.o, said, "Kaizen allowed us to rapidly set up a building and create reports that had real meaning to our customers. With Kaizen's Energy, we can quickly pinpoint areas of high energy consumption and we can compare like equipment against each other to determine the worst performers. These two capabilities allow us to focus our efforts in the areas that matter most, saving time and money for our customers while improving the building's energy efficiency."
About CopperTree
Founded in 2012, CopperTree Analytics is a worldwide leader in building analytics, empowering people through technology to realize their building's potential while reducing their environmental impact and creating better spaces for people to live, work and play.
201601
The names of actual companies and products mentioned herein may be the trademarks of their respective owners.
For more information, press only:
Kevin Binnie
+1 778.726.0507
kbinnie(at)cutree(dot)com
For more information on CopperTree's Kaizen building analytics solution:
http://www.coppertreeanalytics.com or http://www.cutree.com
To order or request a personal demonstration, contact sales(at)cutree(dot)com