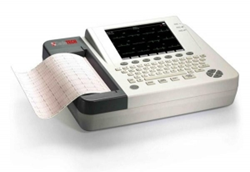 The CardioTech GT-300 provides Excellent cost performance with built-in high-resolution thermal printer. You can record 12 ECG traces on A4 size and US Letter-size paper.
Ventura, California (PRWEB) June 08, 2016
CardiacDirect is excited to announce the launch of two new EKG machines: the improved CardioTech GT-300, and the all-new CardioTech GT-500.
The PC-based GT-500 incorporates comprehensive EKG functions in one versatile platform. The modernly designed software, combined with three sampling box options, provides smooth access to a series of applications including 12 lead resting, 15 lead resting EKG, stress EKG, and PC data management. Customers can chose from the following acquisition options:

DP-12: Wired (USB) 12 Lead Resting or Stress
DK-12: Wireless (Bluetooth) 12 Lead Resting or Stress
DE-15: Wired (USB) 18/15 Lead Resting
The GT-500 is designed for full integration with all Windows operating systems, from XP to Windows 10. The inclusion of the 18/15 lead option facilitates direct examination of the right ventricle, as well as posterior basal and lateral walls of the left ventricle. It can also confirm the presence of AMI, and accurately reflect the extent of myocardial damage.
The new and upgraded GT-300 now includes, for no additional cost, premium features such as an on-board PDF creator, Wi-Fi, and a color 12 lead preview screen. The GT-300 is the most robust, dynamic, value driven EKG on the market. It compares to offerings from GE, Philips, and others, at a fraction of the price.
Paired with PC software, the GT-300 can communicate wirelessly anywhere it receives a Wi-Fi signal, and send tests automatically to a PC for archiving or uploading to EMR (electronic medical records). In the instance there is no available Wi-Fi network, the GT-300 can automatically create PDF files onboard that can be removed via USB thumb drive and transferred to a PC in this format. It's simple!
Innovation does not end here. IOS and tablet compatible versions of this wireless ECG are expected to be available as early as Fall, 2016.
Finally clinicians and physicians will be able to download EKG reports wirelessly.
About CardiacDirect:
CardiacDirect provides the largest selection of quality cardiology equipment at the lowest price anywhere direct to your location.
At CardiacDirect, it's not just about product selection, friendly customer service, fast delivery, and everyday low prices. CardiacDirect is a company dedicated to helping you find the right medical products that fit your needs and contribute to the quality of care you give.
About CardioTech:
CardioTech™ is the leading manufacturer and marketer of non-invasive patient monitor products including EKG, ECG, Ultrasound, Holter, Vital Signs, Co2, Blood Pressure, Fetal and Pulmonary Monitoring.