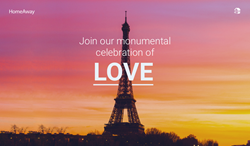 "These entries were so touching that we decided to host an event to celebrate romantic love, love of family, all kinds of love."
AUSTIN, Texas (PRWEB) June 08, 2016
HomeAway®, the world leader in vacation rentals, is creating a celebration of love in the city of love at the world's most iconic symbol of love. Proposals, vow renewals, and love stories will take over HomeAway's Eiffel Tower Apartment on July 2, and HomeAway is giving away a trip for two to Paris where U.S. winners will be guests of honor at the LoveAway Celebration.
To enter to win, visit the HomeAway LoveAway sweepstakes page and complete the entry form before June 13. The winners will receive an all-expense paid trip to Paris, including four nights, June 30 through July 4, in a romantic HomeAway apartment in the heart of the city.
The winning couple will join other romantics at a party in HomeAway's Eiffel Tower Apartment, which was built inside the tower as a temporary space for only one month. Kaitlyn Bristowe and fiancé Shawn Booth from ABC's The Bachelorette are co-hosts with HomeAway and will celebrate their engagement at the LoveAway event.
The sweepstakes follows the conclusion of HomeAway's #EiffelTowerAllYours contest that invited people to enter for a chance to win one night in the Tower. HomeAway received more than 150,000 entries from contestants who, in 140 characters or less, expressed what they would do if the Tower were all theirs for a night.
"As we narrowed down the contestants vying for a chance to make history by sleeping in the Eiffel Tower, it was validating to hear from so many that they consider this iconic landmark universal monument to love," said Mariano Dima, chief marketing officer for HomeAway. "From making to renewing, declaring to wooing, answers about love accounted for a significant percentage of total entries."
For example, #EiffelTowerAllYours contestants said:

I would spend a romantic evening with my gorgeous wife enjoying the magical views as we fall in love all over again.
Fall deeper in love with my fiancé before he joins the Air Force, in total bliss from a night in indescribable luxury among Paris' sparkle.
We would enjoy each other's company one last time before starting a family together. Drink champagne, eat macarons and love each other.
I would show my wonderful fiancée that Paris is all about love and romance. I would re-propose to her as well. It's all about love.
"These entries were so touching that we decided to host an event to celebrate romantic love, love of family, all kinds of love," explained Dima.
On July 2 at 2:00 p.m. CEST/8:00 GMT+1, love enthusiasts are invited join Bristowe, Booth, and the U.S. contest winners for a heartfelt celebration. Guests will enjoy activities to capture memories including a video booth for love stories and professionally-drawn portraits. French champagne will be available for those wishing to make a toast to love. Those interested in attending can go to the company's Facebook pages including Abritel, HomeAway U.S. and HomeAway Asia for information on how to get free access to the event.
About HomeAway
HomeAway, based in Austin, Texas, is the world leader in vacation rentals with sites representing more than one 1.2 million paid listings of vacation rental homes in 190 countries, and is a part of the Expedia, Inc. family of brands. Through HomeAway, owners and property managers offer an extensive selection of vacation homes that provide travelers with memorable experiences and benefits, including more room to relax and added privacy, for less than the cost of traditional hotel accommodations. The company also makes it easy for vacation rental owners and property managers to advertise their properties and manage bookings online. The HomeAway portfolio includes the leading vacation rental websites HomeAway.com, VRBO.com and VacationRentals.com in the United States; HomeAway.co.uk and OwnersDirect.co.uk in the United Kingdom; HomeAway.de in Germany; Abritel.fr and Homelidays.com in France; HomeAway.es and Toprural.es in Spain; AlugueTemporada.com.br in Brazil; HomeAway.com.au and Stayz.com.au in Australia; Bookabach.co.nz in New Zealand; and Asia Pacific short-term rental site, travelmob.com.
The company also operates BedandBreakfast.com, the most comprehensive global site for finding bed-and-breakfast properties, providing travelers with another source for unique lodging alternatives to chain hotels. For more information about HomeAway, please visit http://www.homeaway.com.
© 2016 HomeAway.com, Inc. All rights reserved. HomeAway and the HomeAway logo are trademarks or registered trademarks of HomeAway.com, Inc.