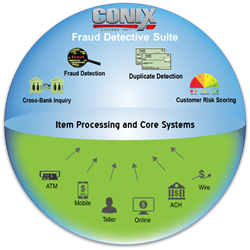 "The Fraud Detective Suite targets critical industry issues by helping banks and credit unions decrease fraud losses and adjustment expenses, meet regulatory guidelines, and protect their reputations and customer relationships."
Manchester Center, VT (PRWEB) June 09, 2016
CONIX Systems, Inc. (CONIX), a leading provider of payment solutions to the financial industry, announced today the availability of its Fraud Detective Suite as a secure, cloud-based service. The Fraud Detective Suite is a set of risk management solutions that protect financial institutions and their customers from the risks associated with all payment types. The solution includes components that work across payment channels and platforms to provide protection from fraudulent and duplicate payments, as well as to provide customer risk assessments.
"CONIX continually focuses on helping financial institutions address the challenges presented by changes in the payments industry," explains Mike Charles, CONIX CEO. "Offering our Fraud Detective Suite as a service allows us to extend the benefits of our risk management solutions to financial institutions that might otherwise be unable to justify them. These solutions enable them to safely extend popular, yet higher-risk payment offerings, such as mobile and remote deposit, to their customers with confidence."
The Fraud Detective Suite includes

Fraud and duplicate detection for identification of fraudulent and duplicate payments prior to posting and real-time inquiry capability for mobile, RDC, teller, and other systems
Cross-bank inquiry for identification of fraudulent and duplicate payments across institutions prior to presentment
Customer risk scoring for real-time rating of customer eligibility for an institution's products and services
"The Fraud Detective Suite targets critical industry issues by helping banks and credit unions decrease fraud losses and adjustment expenses, meet regulatory guidelines, and protect their reputations and customer relationships," adds Steve Fortson, CONIX Director of Sales. "We're delighted that we can now offer these same benefits to all financial institutions, regardless of size."
About CONIX Systems, Inc.
CONIX (http://www.CONIX.com) is a leader in providing payment processing software and related services to the financial services industry. Founded in 1992, the company is headquartered in Townshend, Vermont with offices throughout the United States. For more information about CONIX and its products, contact us at (800) 332-1861 or sales(at)conix(dot)com.