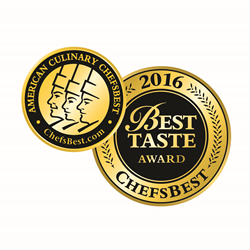 San Francisco, CA (PRWEB) June 09, 2016
June 9, 2016 — In the face of the new draft guidance announced by the FDA last week calling for a voluntary reduction in sodium among processed and prepared foods, ChefsBest Certified Master Tasters® have pledged to offer complimentary feedback to brands considering reformulations and those concerned with how those reformulations could affect the taste of their products.
Known for their ability to quantify taste using a proprietary judging methodology, Certified Master Tasters conduct hundreds of blind taste tests annually at the organization's Center for Taste in San Francisco, honoring the best-tasting foods in individual product categories and unlocking coveted ad claims for leading brands.
"This announcement by the FDA, along with mandated revisions to nutrition labels in the coming years, has a number of brands considering reformulation and changes to their packaging, both of which ChefsBest can have a hand in improving," said ChefsBest President and CEO Lisa Liguori. "Our goal, ultimately, is to support brands in the food industry by ensuring any changes they consider keep taste and quality at a superior level."
In addition to evaluating competitors in specific product categories on taste, Certified Master Tasters can also offer quantifiable feedback to brands before reformulations are brought to market by using Sensory Attribute Quality Analysis®.
"Our panel of experienced executive-level chefs can provide the feedback brands need to ensure they're putting their best foot forward when it comes to introducing a product with lower sodium while still maintaining a high quality of taste," Liguori said. "We can eliminate any concerns with regard to how a reduction in sodium can affect basic tastes like bitterness or sweetness, or perhaps even offer insight into alternative spices or flavors needed to maintain that superior taste that all brands want."
In addition to the voluntary reduction in sodium announced by the FDA last week, revised nutrition labels were also mandated by the agency in May as part of a concerted effort to help consumers make better informed food choices when it comes to incorporating healthier eating habits.
Changes include a refreshed design, more specific information with regard to added sweeteners, an expanded list of included nutrients and more.
"While this may pose a challenge to some brands, we want them to think of it as an opportunity to re-think their packaging entirely," Liguori said. "The addition of ChefsBest's Best Taste or Excellence awards on packaging could be a very positive addition to come out of these changes. It's a great time for brands to reach out and have their products evaluated by our Certified Master Tasters to see if they quality to utilize those honors."
Winners of the ChefsBest Best Taste Award, bestowed on only one brand in each category, may assert powerful superiority claims over competitors including "America's Best," "Best Tasting," and "Highest Quality." Brands that surpass quality standards established by ChefsBest Certified Master Tasters are granted the ChefsBest E xcellence Award, which unlocks claims including "Endorsed by Professional Chefs," "Award-Winning Taste," and "Highly Ranked."
***
About ChefsBest
ChefsBest identifies and honors the best tasting grocery products in order to support the companies that make them and the people who choose to select them. Through its headquarters in San Diego and the Center for Taste in San Francisco, the organization has judged thousands of grocery products and bestowed its Best Taste and Excellence awards on the highest-quality products since 2000. Through ChefsBest, brands can unlock coveted ad claims and consumers can garner insight they need to purchase the best-tasting and highest quality ingredients. ChefsBest awards are a nationally recognized trust mark used by numerous brands, both in and out of the grocery aisle. For more information, visit ChefsBest.com.