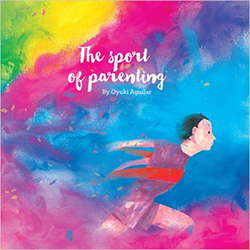 ...we often lose ourselves in the task of rearing.
San Diego, Calif. (PRWEB) June 13, 2016
Parenting is a sport. There are daily wins and losses. It's physically challenging, and there is strategy involved to achieve the desired end result: a happy, well-adjusted adult.
But, what if there's a curveball?
Oyuki Aguilar, a mother diagnosed with Multiple Sclerosis, an autoimmune disease, wondered what would happen to her children if she weren't there to parent them.
"I decided to write to them," Aguilar said. "I wanted to leave them a kind of 'manual' for leading good and honorable lives, in colorful, attractive pages, that they could always turn to for comfort and guidance."
Aguilar began compiling a book of reflections, paintings and humor about parenting and shared moments with her children. She wrote "The Sport of Parenting" as a memento for her children, as well as a source of inspiration and encouragement for other parents.
She explains, through making light of the daunting, daily challenges of family life, how every experience can be a teaching moment and how those lessons can be applied to other areas of life.
"Parents nowadays are so invested in their children," Aguilar said, "that we often lose ourselves in the task of rearing."
For more information, visit: http://bookstore.balboapress.com/Products/SKU-001035603/The-sport-of-parenting.aspx.
The Sport of Parenting
By Oyuki Aguilar
ISBN: 978-1-5043-4753-2
Available in softcover, e-book
Available on Amazon, Barnes & Noble and Balboa Press
About the author
The most important job author Oyuki Aguilar has is being a mom. Though it is challenging, she finds it enlightening and rewarding. Multiple sclerosis gives her perspective. She constantly pictures a future for her children without her, so she savors each moment she shares with them. She strives to make ordinary moments special so her children will have a strong love tool to help them cope if she's ever absent. Oyuki lives on the West Coast, where her family takes advantage of the beautiful weather with plenty of outdoor activities. Her children spend most of their days playing in their big backyard. "The Sport of Parenting" is Oyuki's first book.
# # #
**FOR IMMEDIATE RELEASE**
For review copies or interview requests, contact:
Lindsey Gobel
317.435.2116
lgobel(at)bohlsengroup(dot)com