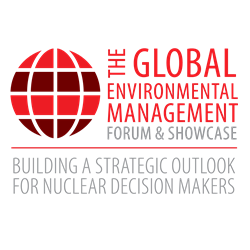 We are pleased to have assembled an all-star group of representatives from world-class companies in the nuclear environmental management orbit
Washington, D.C. (PRWEB) June 09, 2016
ExchangeMonitor Publications & Forums has named an eleven-member Industry Advisory Committee for the Global Environmental Management Forum & Showcase. The Forum and Showcase will take place November 1-3, 2016 at the Omni Shoreham in Washington, D.C. Previously known as the Decisionmaker's Forum, the Forum has been the key annual meeting of global industry and governmental decision makers in the nuclear environmental management arena for 27 years.
"We are pleased to have assembled an all-star group of representatives from world-class companies in the nuclear environmental management orbit that will provide critical direction and counsel for a bigger, better and more global Forum this year," said Jennifer Schwartz, Senior Vice President, Access Intelligence, the parent company of ExchangeMonitor.
The Forum Industry Advisory Committee includes:

Paul Grimm (Co-Chair), President, BG4, LLC & Chairman, USNIC Environmental Management Task Force
David Blee (Co-Chair) chief executive officer, U.S. Nuclear Infrastructure Council
Willis Bixby, Senior Advisor, Energy Solutions
Dwight H. Cates, Director, Government Relations, Fluor Corporation
Joe Davis, Senior Vice President, Artemis Strategies
Robert Granata, Vice President, Newport News Nuclear, a Division of Huntington Ingalls Industries
Eric Knox, Nuclear and Environment, AECOM
Scott Kopple, Manager, Government Programs, BWX Technologies, Inc.
Victoria S. Napier, Senior Vice President, Government & Public Relations, Energy, Atkins Global
Sean Todd, President, Fox Potomac Resources
Bobby Wilson, Senior Vice President, CB&I
"I am pleased to co-chair the Forum's Industry Advisory Committee," said Grimm, a former Acting Assistant Secretary of Energy for environmental restoration and waste management. "This year's Forum with its expanded focus on global endeavors and emerging environmental technology will further the Forum's longstanding reputation as a place where policy melds with technology and where information helps business decisions. Direct industry input provided by the Advisory Committee will help to propel this important mission forward," he said.
The goal of the Forum -is to raise awareness of diverse global initiatives and projects, promote greater participation in international dialogue, and to focus on new waste and environmental management technologies. Through this Forum, ExchangeMonitor is continuing the late Ed Helminski's legacy by creating an educational program that allows for open and authentic discussions with key industry and government professionals and experts, creating an independent atmosphere of open dialogue to learn, network, and discuss both opportunities and solutions to challenges facing the nuclear industry in today's climate.
Registration is open for the 2016 Global EM Forum & Showcase, formerly known as the Decisionmakers' Forum. Plan to join us now November 1-3 in Washington, D.C. to receive important insight into the inner workings of the nuclear industry. For more information about the Technology Showcase, please contact Caleb Ward, Director, United States Nuclear Infrastructure Council at 202-322-8845 or caleb.ward(at)usnic(dot)org.
To learn about the program, speaking and sponsorship opportunities, contact Nancy Berlin at 703-527-2764 or nberlin(at)accessintel(dot)com and/or visit http://www.globalemforum.com.
About ExchangeMonitor, a division of Access Intelligence, LLC
ExchangeMonitor Publications & Forums, founded by the late Edward Helminski, was acquired by Access Intelligence, LLC in March 2015. ExchangeMonitor publishes professional newsletters and creates, manages and sponsors forums, colloquiums and workshops to facilitate an exchange of views and information among government officials, private industry executives, non-governmental organizations and other entities on critical national and international programs and policies.
About Access Intelligence, LLC
Access Intelligence, LLC, a portfolio company of Veronis Suhler Stevenson, is a b-to-b media and information company headquartered in Rockville, Md., serving the media, PR, cable, healthcare management, defense, chemical engineering, satellite and aviation markets. Leading brands include Weapons Complex Monitor, RadWaste Monitor, Nuclear Security and Deterrence Monitor, GHG Reduction Technologies, Defense Daily, Cynopsis, Cablefax, PR News, FOLIO:, AdMonsters, Event Marketer, LeadsCon, Chief Marketer, Media Industry Newsletter, Defense Daily Network, Aviation Today, Studio Daily, POWER and Via Satellite. Market-leading shows include The Radwaste Summit, The Decisionmakers' Forum, The Nuclear Deterrence Summit, LeadsCon, CCUS Conference, The FOLIO: Show, Event Marketer Summit, SATELLITE 2016, OR Manager, LDC Trade Forums, Clean Gulf, ELECTRIC POWER, Energy Ocean and Offshore Communications. Access Intelligence also produces executive conferences for the healthcare, PR, media, cable, energy and defense markets.
About the United States Nuclear Infrastructure Council
The NIC is the leading U.S. business consortium advocate for new nuclear and the promotion of the American supply chain globally. The Council is composed of over 80 companies representing the "Who's Who" of the nuclear supply chain community including key movers, technology suppliers, construction engineers, manufacturers and service providers. The NIC is a member of the U.S. Department of Commerce's Civil Nuclear Trade Advisory Council and serves in advisory capacities for the Nuclear Innovation Alliance and Bipartisan Policy Center. The NIC encompasses five working groups and select task forces including a DOE Environmental Management Task Force (http://www.usnic.org).