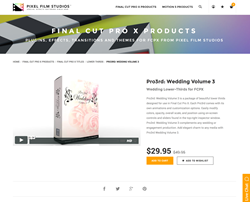 Use any of the 30 beautiful wedding styled presets to accommodate your wedding videos
Aliso Viejo, California (PRWEB) June 12, 2016
"Use any of the 30 beautiful wedding styled presets to accommodate your wedding videos," said Christina Austin - CEO of Pixel Film Studios.
Pro3rd Wedding Volume 3 is a package of beautiful lower thirds designed for use in Final Cut Pro X. Each Pro3rd comes with its own animations and customization options. Easily modify colors, opacity, overall scale, and position using on-screen controls and sliders found in the top-right inspector window. Pro3rd Wedding Volume 3 complements any wedding or engagement production. Add elegant charm to any media with Pro3rd Wedding Volume 3.
Create an elegant feel with Pro3rd Wedding Volume 3's beautiful presets. Choose from charming lower thirds with animation controls, to designs with floral accents. Pro3rd Wedding Vol. 3 is self-animating and user friendly. Simply drag, drop, and stylize. Pro3rd will do the rest.
Each Pro3rd Wedding Vol.3 preset is unique from the next and completely its own. Using the sliders and color wheels found in the upper right inspector window, easily modify Pro3rd presets and stylize titles. Intuitive on-screen controls allow users to modify the scale, rotation, and position of any preset with absolute ease.
Using Pro3rd Wedding Volume 3 is as easy as dragging a preset and dropping it onto any media file in Final Cut Pro X. Simply scroll over any Pro3rd presets to preview the animations in the Final Cut Pro X viewer window. Once selected, just drag and drop. It's that easy. All there is left to do is to position the preset using on-screen controls. Pro3rd Wedding Vol.3 will do the rest.
Pro3rd Wedding is completely customizable only in FCPX. Users can find easily adjustable parameters in the upper right inspector window. This allows for Easy customization of the presets. Pixel Film Studios makes charm and elegance look easy in FCPX.
Established in 2006, Aliso Viejo, California-based Pixel Film Studios is an innovative developer of visual effects tools for the post-production and broadcast community. Their products are integrated with popular non-linear editing and compositing products from Apple FCPX. Apple, the Apple logo, Mac OS X, and Macintosh are registered trademarks of Apple Inc. in the U.S. and/or other countries. All other trademarks and trade names are the property of their respective owners.