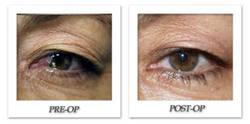 The emphasis on patient safety in Australia is a high priority worldwide and is very tightly regulated in the U.S., so that plastic surgery is now safer than ever before.
Los Angeles, CA (PRWEB) June 17, 2016
According to an article published June 8 on Yahoo News, Australian based surgeons are calling to regulate plastic surgery procedures for improved patient safety. The call for regulation was stirred by a reported surge in complications among surgery patients who were either given too much local anesthetic or suffered from infections caused by unsterile operating conditions. Beverly Hills Physicians notes that patient safety is a high priority worldwide and is very tightly regulated in the U.S., so that American plastic surgery is now safer than ever before. BHP notes that their highly qualified and experienced surgeons perform all of their procedures with the safety and satisfaction of each patient as their absolute highest priority.

Eyelid Surgery- Eyelid surgery is chosen by patients who wish to correct issues above and below their eyes such as double hooded lids or dark circles. These eyelid conditions are not only unflattering to a patient but can also affect vision. BHP notes that their experienced surgeons give special attention to the delicate area around the eyes through their use of only the most advanced minimally invasive techniques. BHP notes that the eyelid surgery procedures offered in their practice have been performed so frequently that their team of surgeons rely on their many years of experience to provide their patients with a more youthful and well-rested look.
Breast Reduction - Although breast augmentation is the most popular plastic surgery procedure sought out by women, breast reduction offers the patient a chance to remedy the many physical discomforts that occur because of the size and weight of the breasts. BHP notes that reduction procedures are often sought out by young women who may be suffering from unwanted attention as well as back pain and other issues. Obviously, the health, safety, and satisfaction of younger patients are always extremely high priorities when performing this extremely safe, but nevertheless demanding procedure.
Brazilian Butt Lift - A procedure preferred by patients seeking a more natural approach at enhancement, the Brazilian butt lift is the safest method for buttock augmentation. Utilizing transferred fat from the patient's own body, the Brazilian butt lift enhances the patient's behind with more freedom from the qualified surgeon to contour the area in proportion to the patient's body, notes BHP. Using the patient's own body fat also reduces the risk of complications related to infection. Overall, experts agree that this plastic surgery technique ensures patient safety while providing the desired results.
To learn more about the plastic surgery procedures offered at Beverly Hills Physicians or to schedule a surgery consultation, readers are welcome to call BHP at 800-788-1416 or visit their website at http://www.BeverlyHillsPhysicians.com.