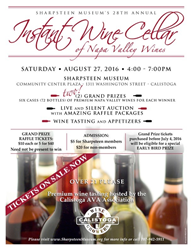 Calistoga, CA (PRWEB) June 08, 2016
This year's instant wine cellar is being rejuvenated. From 4 to 7 p.m. on Saturday, Aug. 27 in the Sharpsteen Plaza, the 28th Annual Instant Wine Cellar Extravaganza will be taking place. Thanks to the involvement of the Calistoga AVA Growers, five of their winery members will be on board, pouring their wines for everyone's tasting pleasure. There will be enhanced food offerings along with astounding appetizers. Baskets up for raffle will be available, as well as new and different silent auction prizes. A possible vacation getaway will be intertwined in the event, too!
There will be two grand prizes this year, each one a collection of 72 bottles of only the best wines Calistoga and the Valley has to offer. Tickets will be on sale in early June at the museum, so standby! Price is $10 each or six tickets for $50. Those who purchase tickets before July 4 will be entered into the EarlyBird drawing for a prize chosen personally for that winning ticketholder. Forms for grand prize tickets are posted on the museum's website. Simply complete the form and mail it to the museum or fax to 707-942-6325.
Per ABC Laws, Sharpsteen Museum can no longer offer wine at no cost. Therefore, this year, admission will be $20 each for non-members or $5 for Sharpsteen Museum members. This event is for those who are 21 or older, please.
This is the museum's one and only fundraiser and success is crucial. Funds are needed to continue educational programs, author and lecture events, ongoing maintenance and repair to the museum, as well as existing displays and exhibits, acquisitions of new items (12 have been added within the last 18 months), and many more expenses.
Want to volunteer? Contact Ways and Means Chair Pat Larsen at 707-341-3313.
More information on this event will be posted to http://www.sharpsteenmuseum.org, so stay in touch. Feel free to visit our Facebook page for even more updates.
About Sharpsteen Museum:
The Sharpsteen Museum's permanent exhibits are designed to present the history of the upper Napa Valley from its pre-history to post-World War I with an emphasis on people and changes brought by the period of U.S. emigration and development.
In addition to its many historical exhibits, the museum uses unique and extraordinarily extensive dioramas to depict Calistoga during its period as the elegant 1860s Hot Springs resort developed by pioneer, promoter, publisher, entrepreneur, and California's first millionaire, Sam Brannan. Sharpsteen Museum has special exhibits which change twice a year, every six months, and reflect the varied interests of the people of the Valley. They have ranged from antique silverware to model ships to historical musical instruments.