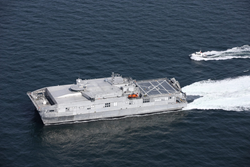 Mobile, Ala (PRWEB) June 08, 2016
Austal successfully completed acceptance trials on USNS Carson City, Expeditionary Fast Transport (EPF 7), May 25th, in the Gulf of Mexico. Carson City is slated for delivery to the U.S. Navy by the end of the year and is the seventh ship in Austal's 10-ship $1.6 billion block-buy contract awarded by the U.S. Navy in 2008.
"The successful completion of acceptance trials for EPF 7 is further proof of how mature and efficient this program has become," said Craig Perciavalle, Austal USA's president. "These great ships, built by an extraordinary team of talented Austal shipbuilders, are proving their flexibility and potential in improving international relations worldwide."
This milestone achievement involved the execution of intense comprehensive tests by the Austal-led industry team while underway, which demonstrated to the Navy the successful operation of the ship's major systems and equipment. Acceptance trials are the last significant milestone before delivery of the ship.
Austal's EPF program is steadily maturing with six ships delivered and three more under construction at the Mobile, Ala. facility. The 338-ft Spearhead-class EPF is currently providing high-speed, high-payload transport capability to fleet and combatant commanders. The EPF's large, open mission deck and large habitability spaces provide the opportunity to conduct a wide range of missions – from engagement and humanitarian assistance or disaster relief missions being conducted today to the possibility of supporting a range of future missions including special operations support, command and control, and medical support operations. With its ability to access austere and degraded ports with minimal external assistance, the EPF provides unique options to fleet and combatant commanders.
In addition to the EPF program, Austal is also building 11 Independence-variant Littoral Combat Ships (LCS) for the U.S. Navy under a contract worth over $3.5 billion. Three LCS have been delivered while an additional seven are in various stages of construction.
-ENDS-
About Austal
Austal is a global defence prime contractor and a designer and manufacturer of defence and commercial ships. For more than 27 years Austal has been a leader in the design, construction and maintenance of revolutionary ships for governments, navies and ferry operators around the world. More than 255 vessels have been delivered in that time.
Ships
Defence vessels designed and built by Austal include multi-mission combatants, such as the Littoral Combat Ship (LCS) for the United States Navy and military high speed vessels for transport and humanitarian relief, such as the Expeditionary Fast Transport (EPF) ships for the U.S. Navy and High Speed Support Vessel (HSSV) for the Royal Navy of Oman. Austal also designs, constructs, integrates and maintains an extensive range of patrol and auxiliary vessels for government agencies globally, including the Cape Class Patrol Boat Program for Australian Border Force. Defence vessels are designed and constructed in Mobile, Alabama and in Henderson, Western Australia.
Austal has been at the forefront of the high speed ferry market since the early days of the industry. Our market leading designs of high performance aluminium vessels have long been at the heart of Austal's research and development. Today, commercial ship construction is centred on our shipyard in Balamban, Philippines.
Systems
Austal has expertise in integrating complex systems into its ships, including ride control, ship management, and communication, sensors and weapon systems.
Support
Austal provides a wide range of support services, including through life support, integrated logistics support, vessel sustainment and systems support. These services are delivered through our global support network in the USA, Australia, Asia, and the Middle East together with partner shipyards worldwide.
-ENDS-
Follow Austal USA on: Flickr | Facebook | Twitter | Instagram | YouTube
Further Information:
Austal USA Press
Email: uspress(at)austalusa(dot)com