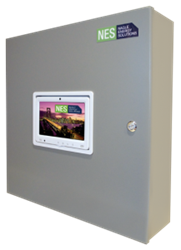 Menlo Park, CA (PRWEB) June 10, 2016
Nagle Energy Solutions (NES) announced today that engineers for the City & County of San Francisco selected the NES digital, ventilation-control system for commercial garages as the basis of design for upgrading the mechanical ventilation systems of three City owned properties. NES will supply and support the installation and commissioning of its innovative system this year at the Golden Gateway, Sutter-Stockton and Japan Center garages, respectively.
"The selection of Nagle Energy Solutions reinforces our growing reputation as the pacesetter in the garage ventilation controls industry," stated NES Principal Partner Frank Nagle. "NES has built a strong track record in delivering a distinctly innovative garage ventilation control solution, which repeatedly achieves unparalleled energy savings and operational efficiencies while ensuring strict health and safety standards are met. The NES system continues to make its mark."
The NES digital, demand-control ventilation (DCV) system utilizes a licensed, smart-control logic that detects and measures vehicle fumes in the garage and then modulates garage fan speeds to prevent carbon monoxide (CO) and, where appropriate, nitrogen dioxide (NO2) levels from exceeding predefined set points for an extended period of time. This approach, when deployed with proprietary NES controller sequencing, routinely captures kilowatt-hour (kWh) and peak kilowatt (kW) demand savings in the range of 93% to 95% — and, in some instances, greater.
City of San Francisco garage retrofit plans specify the installation of the NES TR Series ventilation control system, which incorporates Tridium's powerful and durable JACE controller with Niagara programming framework.
NES TR Series controllers provide optimum functionality and system features, including scalability and an "open" communications platform that comports with most building management system (BMS) and/or energy management system (EMS) communication protocols. NES TR controllers integrate a secure web server to enable property managers to conduct system status checks and adjust operational parameters from their desktops – or remotely from their laptops. They further distinguish themselves by their ability to monitor and report on energy consumption / savings on a real-time basis.
The NES solution enables the City & County of San Francisco adhere to stricter energy efficiency and health and safety standards imposed in California for enclosed, commercial garages. An increasing number of states, including California, Oregon and Washington, and municipalities throughout U.S. have recently or are in the process of revising their energy code requirements for ventilating enclosed commercial garages. The new standards place a heavy emphasis on health and safety while recognizing ongoing technological advances that enable control systems to generate significant energy savings.
The NES "variable flow" solution addresses the stricter standards by enabling garage fans to run continuously and 'vary' motor speeds based on CO (and NO2) concentrations in the garage.
"What sets our system apart is its ability to increase mechanical ventilation system operating efficiencies such that it dramatically reduces kWh and peak kW demand consumption while accounting for and often exceeding evolving code requirements," said Mr. Nagle.
The Sutter-Stockton garage, located near San Francisco's Union Square, provides 1,865 parking spaces. The Golden Gateway garage, located in the heart of San Francisco's financial district, provides 1,095 parking spaces. The Japan Center garage is the hub of San Francisco's Japantown in the City's Western Addition district. It provides 920 vehicle spaces.
Current plans call for the Golden Gateway and Sutter-Stockton garage retrofits to be completed this summer and the Japan Center retrofit to be completed by year end.
About Nagle Energy Solutions: Based in Menlo Park, CA, Nagle Energy Solutions, LLC (http://www.nagle-energy.com) develops, manufactures, distributes and installs an innovative demand-control ventilation (DCV) system for commercial garages that dramatically reduces energy consumption, increases operational efficiencies and ensures adherence to strict health & safety standards – all while leaving your garage fan motors running.