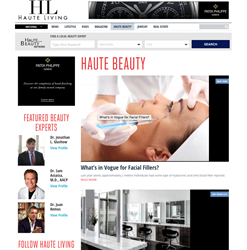 National (PRWEB) June 09, 2016
Haute Living welcomes its first exclusive beauty network catering to regional cosmetic surgeons with new sub-brand, Haute Beauty. Haute Beauty is an elite component of Haute Living, a powerful SEO & Google News-ranked website delivering exclusive content for top luxury brands. Within the past few months, Haute Beauty has successfully garnered some of the country's top plastic surgeons to join the network as only one of two plastic specialists in each market. The custom, partnership-driven portal successfully connects its consumers to top-ranked cosmetic surgeons in segmented target markets specific to each region.
Haute Beauty partners achieve many benefits by joining the network. Most uniquely, since Haute Living is Google News-ranked website, doctors boost their SEO ranking as they appear on the first page of Google on a worldwide scale through their member profiles on the Haute Living website and monthly blog posts that each doctor contributes to the site. Here, partners are able to share industry-leading news in nutrition, fitness and beauty specific to their specialty as well as links to their personal sites with Haute Living's savvy readers and those who search for the doctor on Google. Additionally, each member is promoted via a bi-weekly newsletter released to 60,000+ subscribers and builds a strong social media presence on Facebook by taking advantage of both Haute Living and Haute Beauty's large follower base.
Specialties within the Haute Beauty network include: Breast Augmentation, Liposuction, Nose, Face, Hair, Skin, Smile, Vision, and most recently, Brazilian Butt Lifts. Currently, Haute Beauty markets include New York, South Florida, Southern California, Northern California and Dubai, with plans to expand throughout the country within the upcoming months. As the network only allows two doctors per specialty in each market, availability is limited. For more information, check the Haute Beauty tab available through the Haute Living homepage. http://hauteliving.com/categories/haute-beauty/