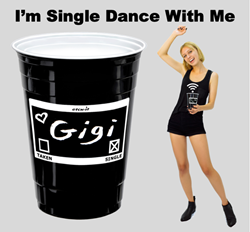 "It's a futuristic party cup that sparks conversation and connects people. The Etch-It-Cup Deluxe increases your odds of getting luck by 1000%
Mission Viejo, CA (PRWEB) June 09, 2016
Etch-It-Cup Deluxe, a party cup that promises to increase the odds of getting lucky by 1,000%, today unveiled its unique matchmaking campaign, with the help of a revolutionary cup on Kickstarter.
With a new, stylish black and white design, and ingenious "Connect" feature, the Etch-It-Cup Deluxe brings people together with unplugged, organic social media technology, much safer than Tinder, enabling its users to post their name, relationship status and send a personalized message to a hottie at a house party.
It's futuristic features keeps track of who's drink it is, sparks conversation and connects people. Go ahead turn it on and see where this magical cup can lead. The Etch-It-Cup Deluxe is guaranteed to be the life of the party.
"Sometimes it's hard be noticed and stand out in a crowd. Many of us are shy and afraid to make a first move. With our cup people connect easier because the cup does the talking and breaks the ice. I like to say the Etch-It-Cup Deluxe is disposable, however the love you find with Connect could last forever," said Etch-It-Cup founder Michael Marrin. "Like other warn out style trends, the red cups hay day is officially over because now something way better has come along to replace it. So move over SOLO, RED is DEAD, and you're image is not cool anymore."
In fact (unofficial) studies indicate, odds are more likely to be arrested than finding love with a red party cup in hand. However use an Etch-It-Cup Deluxe "Connect" feature and for sure the odds of getting lucky will increase by 1,000%.
To post messages on the touch screen cup tracking device, simply use a fingernail and etch a name, express a cool vibe or a phone number to boost the party fun to another level. Now activate "Connect" to reveal their relationship status by choosing single or taken. Or for those with a mysterious side, choose neither single or taken, keep their status a secret and let the games begin.
The Etch-It-Cup Deluxe is the perfect ice breaker and prevents the embarrassing situation of hitting on someone else's significant other. Now while checking out the party guests, users can easily see who's available or not. Too shy to flirt with a stranger? Bring them a drink with a message to show they're wanted.
In a world that's become fixated with electronics and social media. Etch-It-Cup Deluxe helps bring back natural interaction and socialization, promoting its users to engage in real conversations, face to face, sparked by the personalized post on their party cup.
Disposable but designed to be reusable, the Etch-It-Cup Deluxe is sturdy and washable for the next big party. Additionally the black magic wax /etch-able surface on the touch screen will never smear, stick or stain anything even when wet from condensation.
Etch-It-Cup Deluxe is available for pre-order on Kickstarter with early bird pricing starting at just $10 for a package of 40 black and white 18 oz cups. A small price to pay to help meet the man or woman of your dreams.
For more information and to pre-order Etch-It-Cup Deluxe, visit:
https://www.kickstarter.com/projects/1392908534/futuristic-party-cup-w-connect-a-social-media-tech
ABOUT ETCH-IT-CUPS
As the founder of Etch-it inc, and Inventor of the original Etch-It-Cup, California surfer and motorcycle racer Michael Marrin's cups have overflowed with success with over $5.5 million in retail sales of the original Etch-It-Cup products in major retailers such as Walmart, Party City, HEB, Beverages & More and many top grocers. With over a decade in the disposable cup business, Marrin won invention of the year for the original Etch-It-Cup and his cups were called "genius" by CNBC's Donny Deutsch. Now he's hoping to set a Kickstarter record with the Etch-It-Cup Deluxe, start the RED is DEAD revolution and become the next master matchmaker.