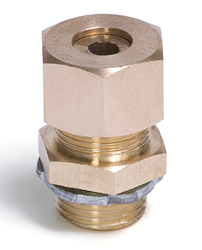 Kenny Clamps replace sheet metal screws or non-listed connectors for grounding enclosures.
HARRISBURG, N.C. (PRWEB) June 15, 2016
The new improved Kenny Clamp connector from Galvan Industries provides a superior method for bonding and grounding separately derived systems, panel boards and enclosures as required by the latest editions of the National Electrical Code (NEC).
The Kenny Clamp, available now for immediate delivery from Galvan, easily and safely bonds grounding electrode conductors to panel boards, switchboards, cutout boxes, metallic conduit and transformer enclosures.
The Kenny Clamp is designed to be installed through a 1/2-inch knockout with paint removed. It is held in place with a steel locknut. The grounding electrode conductor is then inserted through the Kenny Clamp and secured by tightening the compression nut, meeting the applicable requirements of NEC 250.8 and NEC 312.5(A).
Available in 10 different solid and stranded wire configurations, the patented Kenny Clamp is UL 486A listed for connectors and complies with UL 467 requirements for grounding and bonding.
Kenny Clamps replace sheet metal screws or non-listed connectors for grounding enclosures - neither of which is NEC-compliant. Thanks to their easy installation, Kenny Clamps actually save time for installers while enhancing connection integrity and safety.
About Galvan Electrical Products
Galvan Industries offers a full line of electrical grounding products, accessories, connectors and tools that are used in residential, commercial and industrial applications, including construction, cable TV, lightning protection, power transmission and telecommunications. They are available from leading electrical wholesalers and distributors throughout the United States.
In addition, Galvan is the only U.S. manufacturer to produce UL-listed galvanized ground rods, UL-listed copper-coated ground rods, UL-listed solid copper ground rods and CSA-listed stainless steel ground rods for use in the U.S. and Canada. This gives contractors, wholesalers and utilities a safe, listed option for all of the most commonly specified types of ground rods.
For more information call 1-800-277-5678; fax 704-455-5215; e-mail sales(at)galvanelectrical(dot)com or visit Galvan on the Web at http://www.galvanelectrical.com.
[end]