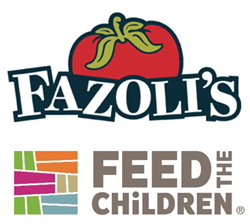 By purchasing one of our new Primo Submarinos® our valued guests are directly providing food to those in need. — Fazoli's President and CEO Carl Howard
Lexington, KY (PRWEB) June 09, 2016
During summer months, millions of children across America will face food scarcity without school meal programs. In order to help supply meals to those in need, Fazoli's is inviting customers to pay it forward through its buy one, give one campaign. For every Primo Submarinos® purchased June 13-19, 2016, Fazoli's will donate a sandwich of equal value to Feed the Children. For nearly five years, Fazoli's has donated more than 10 tons of food and has raised more than $200,000 for Feed the Children.
"The longstanding partnership Fazoli's has with Feed the Children is very important not only to our associates, but to the communities we serve," said President and CEO Carl Howard. "By purchasing one of our new Primo Submarinos® our valued guests are directly providing food to those in need."
Made-to-order and served with hot, fresh, unlimited breadsticks when dining in, Fazoli's new Primo Submarinos® include quality ingredients such as fresh mozzarella cheese, overstuffed premium meats and fresh-sliced vegetables.
Fazoli's new Primo Submarinos® include:
Turkey Mozzarella Fresco
Smoked turkey topped with sliced mozzarella cheese, savory pesto drizzle, marinated Caprese-style bell peppers, and zesty peppercorn ranch, served baked on a toasted garlic roll.
Turkey Club Classico
An Italian-style turkey club, featuring thinly sliced smoked turkey, crispy bacon, sliced mozzarella cheese, and Parmesan peppercorn ranch, served baked on a toasted garlic roll.
The Primo Italiano
Generous portions of savory Genoa salami, seasoned capicola, and baked ham topped with sliced mozzarella, served baked on a toasted garlic roll.
Meatball Da Vinci
Made with Fazoli's famous meatballs, pepperoni, and topped with melted sliced mozzarella cheese, served baked on a toasted garlic roll.
In 2012, Fazoli's was awarded the COEX Innovation Award for its continued fundraising and food donations to Feed the Children. This past November, Fazoli's was in St. Louis to distribute food to 800 military families as part of Feed the Children's Homefront Harvest Festival. Additionally, Fazoli's raises money for Feed the Children through the sale of its specialty ice beverage, Giving Grape and through the sale of a coupon book.
"We are greatly honored to partner with Fazoli's in the fight to end hunger in America," said J.C. Watts, Jr., president and CEO of Feed the Children. "Because of the generosity of Fazoli's, Feed the Children is able to aid families who need us most."
Fazoli's is proud to offer fast, fresh Italian to guests across the country. Connect with Fazoli's online at http://www.fazolis.com, "follow" @Fazolis on Twitter, "like" us on Facebook, and sign-up to become a Fazoli's eFamily member by visiting fazolis.com/efamily.
About Feed the Children
Feed the Children believes that it can create a world where no child goes to bed hungry. Since 1979, Feed the Children has grown into one of the largest U.S.-based charities. It is accredited by GuideStar Exchange and the BBB Wise Giving Alliance, maintains a 4-star rating from Charity Navigator, and is also a member of InterAction. Through its network of agencies, Feed the Children distributed more than $344 million in food, essentials, educational supplies, and medicine, impacting close to 9 million individuals in the U.S. and more than 4.9 million individuals internationally, for a total of 13.9 million individuals globally in fiscal year 2014. Visit http://www.feedthechildren.org for more information.
About Fazoli's
Headquartered in Lexington, Ky., Fazoli's opened its first restaurant in 1988 and now has 217 restaurants in 26 states. Fazoli's is the nation's leading fast-casual Italian restaurant chain and was named one of New York Post's five breakout fast casual restaurants in 2015, and ranked in the Top 25 of Fast Casual's Top 100 Mover's and Shakers 2015 list. Fazoli's believes in serving America premium quality Italian food in a fast, fresh and friendly environment. For more information, please visit http://www.fazolis.com.
###