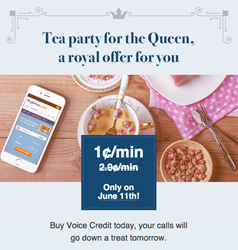 RingBritain.com joins the celebration by offering a very special offer on such a very special day: a queen-size discount.
Atlanta, Georgia (PRWEB) June 11, 2016
The Queen's birthday has always been a great celebration opportunity, but even more so this year, when Queen Elizabeth II reached the impressive age of 90. The entire UK is proud of their sovereign and can't wait for the magical parade.
RingBritain.com joins the celebration by offering a very special offer on such a very special day: a queen-size discount. On June 11th, calls to mobiles in UK cost only 1¢/min, after an initial rate of 2.9¢/min.
The new rate is 65% lower to make sure Brits all over the world call home and enjoy the Queen's Parade with their loved ones. Calling a landline in UK is also just 1¢/min, so whatever type of number customers want to call, the odds are in their favor with this one day royal offer.
RingBritain.com offers a variety of calling options, to suit every need. Calls can be placed from:

any phone, through the use of access numbers,
any computer, through the Web Call application, or
any smartphone, as RingBritain.com offers a free app, for both iOS and Android devices, called KeepCalling.
In addition to Voice Credit, RingBritain.com also offers Virtual Numbers, monthly subscriptions through which customers pay a low monthly fee and receive unlimited calls from another country. The people calling the Virtual Number only pay the rate of a local call. RingBritain.com offers Virtual Numbers in 38 countries.
Customers are happy both with the quality and with the prices offered by RingBritain.com. On Trustpilot, a famous review site, RingBritain.com receives constant feedback from its customers and currently has an excellent 9.5 rating.
One customer writes, 'Makes the pond a puddle. By far the most efficient and economic way to call the UK. I reside in the United states but have used this amazing service to call the UK from all over the world. Unbeatable ease of connection everywhere. If you have any need to call the UK frequently you have to use this unbeatable service.'
All RingBritain.com promotions and offers can be found on their Facebook page: Facebook.com/RingBritain.
About RingBritain.com
RingBritain.com is an interactive website designed by KeepCalling, a global telecommunications company registered in 2002 in USA. Presently, KeepCalling provides its services to hundreds of thousands of consumers and businesses worldwide, with a focus on customer satisfaction. KeepCalling has been listed by Inc 5000 as one of the fastest growing companies in the USA for 5 consecutive years. In 2015 the company registered a revenue increase of over 200% from 2011 to 2014.