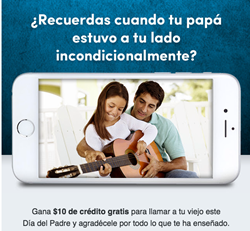 Atlanta, Georgia (PRWEB) June 11, 2016
The main premises of the Facebook contest LlamaElSalvador.com has prepared for its customer is that all dads have super powers and special lessons to teach: with a word, a hug, a bossy voice or a vibrant temper. That being said, the challenge is to remember the significant lessons Salvadoran fathers taught their children. The prize offered is $10 free Voice credit the customers can use to call their fathers on Father's Day.
The rates for calling El Salvador are 10.9¢/min for Claro landlines, 16.6¢/min for all other landlines and mobiles, and 4¢ for an SMS. This means that the Facebook contest offers the customers 91 minutes to call Claro landlines or 59 extra minutes to call all other landlines and mobiles.
Role models or best friend, fathers are always there for their children to show them how things work in this world. They can turn from the biggest fans to the hardest opponents, but some lessons should be learn the hard way. But after all the ups and downs, no matter how close or how far, fathers are those key figures in everyone's lives and they deserve a proper celebration. The contest starts on June 14 and lasts for two days, the winner being randomly selected on June 16.
In addition to the Voice Credit service, LlamaElSalvador.com also offers Mobile Recharge and Virtual Numbers. Mobile Recharge is a service through which customers can recharge phones anywhere in the world. The process is fast and secure and the credit reaches its destination instantly. The mobile operators available for recharges to El Salvador are Tigo, Movistar, Claro, and Digicel.
Virtual Numbers are monthly subscriptions through which customers pay a low monthly fee and receive unlimited calls from another country. The people calling the Virtual Number only pay the rate of a local call. LlamaElSalvador.com offers Virtual Numbers in 38 countries.
Customers express their opinions about LlamaElSalvador.com and its offers on review websites. One of them says 'Extremely pleased with service, reliable, clear, fast, trustworthy. I have used LlamaElSalvador.com for a few years, and have always experienced a great service, affordable rates, clear communications, able to provide my relatives with minutes on their phones with bonuses that enhance their value.'
All LlamaElSalvador.com promotions and offers can be found on their Facebook page: Facebook.com/LlamaElSalvador.
About LlamaElSalvador.com
LlamaElSalvador.com is an interactive website designed by KeepCalling, a global telecommunications company registered in 2002 in USA. KeepCalling provides its services to hundreds of thousands of consumers and businesses, with a focus on customer satisfaction. In 2014, Inc. Magazine listed KeepCalling as the 18th fastest growing company in the telecommunications industry in US.