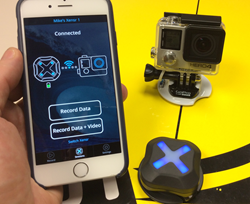 Xensr OneTouch Video turns GoPro videos into amazing sports stories, in seconds. all from an iPhone.
Green Bay, WI (PRWEB) June 09, 2016
Xensr Inc. released Xensr OneTouch Video for iOS today, enabling Xensr users to create stunning movies of their sports performance captured on their GoPro camera. All with a single touch from the user. No editing. No downloading gigabytes of video files. No uploading to the cloud. No need for a laptop. The user is able to accomplish this all from their iPhone in a process that takes about a minute from start to finish.
"Athletes want to share their epic moments with their friends and the world. GoPro and the action camera's market success is based on that, but the cameras are just too cumbersome to use." Remarked Xensr CEO David Troup, "At the end of the day on the mountain, the last thing I'm thinking about is sitting down with my laptop for hours just to find and edit a movie for social media. I want to relax, grab a drink and get some food. OneTouch video lets me create and post a video even before we find a seat at the bar. All from my iPhone."
Troup added, "I love my GoPro's, but when you look at your video, and your friends ask how high were you, you don't really know. The 'fisheye' effect of the wide angle video makes heights hard to judge. With Xensr OneTouch, we overlay your metrics like jump height and airtime right onto the video. I love that I no longer have tons of SD cards lying around with footage that will never see the light of day. There are a lot of SD cards out there with unused footage."
By integrating Xensr data with GoPro action cameras. Xensr OneTouch Video logs all the footage on the GoPro with an index of sports metrics. Jumps, airtime, speed, inverts, turns, crashes and more are all identified by Xensr's TruMotion processor and OneTouch uses this log as an index to pick your best footage based on your actual sports performance.
Xensr OneTouch Video supports GoPro HERO4 Session, Silver & Black editions.
Pricing & Availability: Xensr OneTouch Video is available now as a free update to the Xensr App and can be downloaded here: https://itunes.apple.com/us/app/xensr/id725759931?mt=8
The Xensr AIR 3D GPS is available now for $249.95 at http://www.Xensr.com and select retailers.
About Xensr: Xensr, Inc. is the creator of the Xensr AIR 3D GPS, the world's smallest and smartest 3D sports motion tracker supporting 25+ sports. Lightweight and about the size of an Oreo, the Air is a mountable device that goes on the athlete's gear; surfboard, bike, skis, etc. In addition to recording data, the Air also transmits real time sports motion information over Bluetooth LE to apps in smartphones, Android Wear smartwatches, action cameras and other devices. Founded by athlete engineers, Xensr leads the development of action sports tracking systems that quantify subjective sports with objective data. With over five years of R&D around the globe, Xensr is raising the bar for sports motion with the Xensr 3D GPS, TruMotion technology, and now Xensr OneTouch Video.
Connect with us on Facebook, YouTube, Twitter, and Instagram.
Media Contacts: Alex Stankie and Casey Hauser – PR(at)xensr(dot)com. Press kits are available upon request.
GOPRO and HERO are trademarks or registered trademarks of GoPro, Inc. in the United States and other countries.