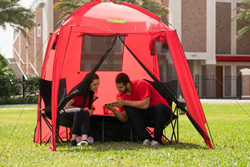 With summer around the corner, tailgating in the fall and all the other activities in between, we're excited to get The GoBag into full production
Cocoa Beach, FL (PRWEB) June 13, 2016
The GoBag™, the ultimate way to easily transport everything needed for fun and comfort during all outdoor activities, surpassed its $15,000 crowdfunding goal and is now available for purchase at TheGoBag.com.
"With summer around the corner, tailgating in the fall and all the other activities in between, we're excited to get The GoBag into full production," said company president Victoria Wyberanec. "The response from backers on Kickstarter has been exceptional, along with the media's response to the product."
With the slogan Get Up and Go, The GoBag is the all-in-one solution that has all the items needed in a single, rollable bag to enjoy the perfect day outdoors. The GoBag encompasses an attached 6'x6'x6' water-resistant cabana sun tent that's neatly tucked away in the side pouch, a sturdy table that can hold drinks, food and personal items and comes with easily-attachable oversized wheels to easily navigate sand or any tough terrain. 
"This summer, instead of stumbling to the beach with chairs in one hand, a cooler in the other and having to make multiple trips to and from your car, you can eliminate all that hassle with The GoBag," Wyberanec said. "It's also great for camping, picnics, fishing trips, watching soccer matches or other high school competitions and a lot more."
If a portable power source is needed, The GoBag has a clear plastic pouch on the top of the cover to store an optional, portable solar charger for charging phones, tablets or speaker systems. Electronic devices can also be stored in the same pouch for protection. 
To make it more affordable for beachgoers to get their freedom from making multiple trips to the beach this summer, The GoBag is available at an Independence Day Sale Price of $229 with U.S. shipping included (excluding Alaska and Hawaii) through midnight Monday – a 15 percent savings over the regular retail price.
To take advantage of the $40 discount, people can use the promo code GoIndependence.
To order The GoBag, or for more information, visit TheGoBag.com.
About Go Products USA
Go Products USA is a privately-held company that was founded in 2013 and is owned by the Wyberanec Family and a group of private investors. Go Products USA will be introducing additional products in the near future. For more information, visit TheGoBag.com.
Media Contact:
Ron Whittington
ron(at)PRmediaNow(dot)com
904-563-0402