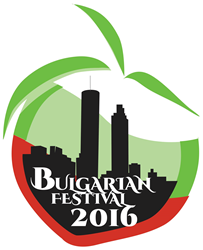 Come and Enjoy the Spirit of the Bulgarian People
Atlanta, GA (PRWEB) June 13, 2016
Be part of and feel the Spirit of the Bulgarian People at the Bulgarian Festival Atlanta. A family, fun-filled day of great Bulgarian food, traditional music, traditional dancing, culture and fun activities for adults and kids of all ages.
Second annual Bulgarian Festival Atlanta 2016 takes place on Sunday August 28th 2016 from 12noon-6pm. It will be held at Pinckneyville Park Medlock Pavilion, which is located at 4758 S Old Peachtree Rd, Norcross, Georgia 30071. The contact information is 678-666-2119, info(at)bulgariafestival(dot)com.
The festival will fill the day with heartwarming Bulgarian culture, traditional dancing, music, food, performances, activities, entertainment and fun. There will be engaging activates for the little ones too, so bring the whole family.
Bulgarian festival of Atlanta aims to bring awareness to the people in Metro Atlanta and surrounding states to the vibrant Bulgarian community here. Atlanta offers Bulgarian language classes, folk dancing classes, art classes and media. There is also a Bulgarian store that sells Bulgarian and European food and other items. The café offers freshly made traditional meals and desserts.
Entertainment comprises of musical performances, dance performances, face painting, crazy hair, games, slides and much more. Food vendors will be on site selling the best tasty Bulgarian food, treats and drinks. On display and for purchase will be Bulgarian cultural items and unique handmade items.
Bulgaria Festival Atlanta is a free family event. Everyone is welcome to be Bulgarian for a day! Thank you to everyone who supports Bulgaria Festival Atlanta. All support allows us to develop Bulgarian cultural enrichment and community development in Atlanta. Come and Enjoy the Spirit of the Bulgarian People and have some fun.
4758 S Old Peachtree Rd, Norcross, Georgia 30071
http://www.bulgariafestival.com
678-666-2119
info(at)bulgariafestival(dot)com
Applications for performers and vendors are being accepted.
Support Bulgarian Festival Atlanta by visiting its Gofundme page: gofund.me/bulgarianfestival
Support Bulgarian Church of Atlanta: http://www.stnikolayatlanta.org
Sponsors
Trimona Bulgarian Yogurt - http://www.trimonayogurt.com
Kris Zugloff Atlanta Business Chronicle 2014 Top Ranking Agents
Mobile: 404-579-5889 / Fax: 678-398-9589
Maximum One Greater Atlanta Realty
4880 Lower Roswell Rd. Suite 470
Marietta, GA 30068
See what others say about me
Teodora's Naturals
All Natural Handmade Skin Care
404-723-5385
http://www.teodorasnaturals.com
Atlanta Bulgaria Group
http://www.atlantabulgaria.com
678-666-2119
Bulgarians in Atlanta is an organization dedicated to the preservation and popularization of Bulgarian culture in Atlanta Georgia Metro Area and beyond. US
Malincho Bulgarian Store in Atlanta
Address: 2800 Spring Rd SE, Atlanta, GA 30339
Phone:(678) 217-4498
Please find us (Atlanta Bulgaria Group) on Facebook and like our Page: https://www.facebook.com/atlantabulgariagroup