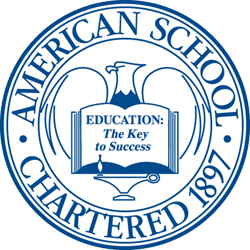 Lansing, IL (PRWEB) June 28, 2016
American School is set to travel to five states during the month in which America celebrates its independence, making convention appearances in Louisiana, Arizona, Texas, Georgia and California in July before the calendar turns to August.
"When students enroll with us and take our accredited middle school and high school courses, they work independently," American School President Gary R. Masterton explained. "After declaring their independence from traditional classroom settings, students work at their own pace, when and where it is convenient for them, and that makes a huge difference in taking them where they want to go in the future."
American School's first stop in July will be the ASCA Conference in New Orleans from July 9-11. The event draws school counselors from across the country and is one of the biggest events American School attends all year.
"School counselors are interested in our courses for credit recovery or enrichment," Masterton said. "We work with thousands of schools across the country each year, and this year even more counselors will be interested in our services because we launched an online middle school program this past spring."
Those middle school courses will also interest homeschooling families, including those who plan to attend the Arizona Home Education Convention in Phoenix on July 15-16 and the THSC Convention in The Woodlands, Texas on July 21-23.
"The convention is Phoenix will be hot for more than just the temperature. It is important for us to be there because there are many homeschoolers in that part of the country, and this is great opportunity to meet them," Masterton said. "A week later we'll be near Houston, and THSC puts on some of the biggest and best events we attend all year. We expect this one will be no different."
Following those two events, American School simultaneously will be at two events at opposite ends of the country. One is the Southeast Homeschool Expo in Atlanta from July 29-30, and the other is the HSC Conference in Burlingame, California from July 30-31.
"These two events are testimony to the fact that we are truly a school for students of all walks of life, all backgrounds and all needs," Masterton said. "The demographics of the Deep South and the San Francisco Bay Area are very different, but everyone who attends these shows is looking for something to enhance an existing homeschool program. We can do that through our high school diploma programs, full-year middle school programs, or individual online or paper-based courses."
American School has been a leader in distance education since 1897 and is accredited by MSA-CESS, Ai and NCPSA. For more information, visit http://www.americanschool.org or call 866-260-7221.