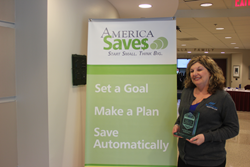 (PRWEB) June 10, 2016
Andrews Federal Credit Union received the America Saves Designation of Savings Excellence for Credit Unions, which recognizes credit unions that go above and beyond to encourage people to save money during America Saves Week. This year, Andrews Federal received the Designation of Savings Excellence seal for their promotional efforts, which included financial education seminars and workshops, a financial vision board, a booklet of savings tips and social media posts.
"We are committed to providing products and services to help our members achieve their financial goals, both big and small," said Polly Quinn, Director of Marketing. "We also believe educating our membership serves to empower them to start and maintain smart saving habits."
America Saves Week is an annual opportunity for credit unions to encourage individuals to save money – with an emphasis on reaching low- to moderate-income families. America Saves is recognizing exceptional credit unions that succeed in promoting savings or other wealth building accounts and have high levels of accounts opened or added to during America Saves Week 2016.
About Andrews Federal Credit Union
Andrews Federal Credit Union was founded in 1948 to serve the needs of military and civilian personnel by providing a vast array of financial products and services. With over $1 billion in assets, Andrews Federal has grown to serve more than 113,000 members in the District of Columbia, Joint Base Andrews (MD), Springfield, Virginia (VA), Joint Base McGuire-Dix-Lakehurst (NJ), and military installations in central Germany, Belgium, and the Netherlands. In addition, the Credit Union serves as a financial partner with many select employee groups in Maryland, the District of Columbia, and New Jersey.
To learn more about Andrews Federal Credit Union and its community involvement, or to become a member, call 800.487.5500 or visit http://www.andrewsfcu.org.