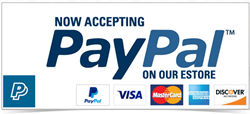 We are thrilled to be able to offer PayPal as an additional option for payment to our customers
New Hyde Park, NY (PRWEB) June 09, 2016
SDP/SI – Stock Drive Products/Sterling Instrument, a leader in comprehensive mechanical solutions for critical motion control applications has announced the availability of PayPal as a payment option at their E-Store.
PayPal has been added in response to customer need. "We are thrilled to be able to offer PayPal as an additional option for payment to our customers," said Robert Kufner, President and CEO, Designatronics, Inc. "Methods of payment previously accepted at our E-Store will remain unchanged, including the use of credit cards for checkout."
The newly redesigned E-Store not only features a new payment method, but the combined offering of all three Designatronics brands, SDP/SI – Stock Drive Products/Sterling Instrument, QTC Metric Gears and QBC- Quality Bearings & Components. Thousands of standard inch and metric size mechanical components can now be purchased off-the-shelf in one convenient place. Mechanical components purchased from stock ship within 24 hours.
About SDP/SI
SDP/SI, ISO 9001 + AS9100 certified, provide complete mechatronic engineered solutions and services which include design, prototype, testing and manufacturing. Visit the newly redesigned website at http://www.sdp-si.com to learn more about SDP/SI, their full range of products and capabilities.
About Designatronics
Designatronics, Inc. manages its brands to develop comprehensive mechanical solutions for industrial and commercial markets, including aerospace and defense, satellites, automation, and medical. Integrated design, engineering, manufacturing, assembly and testing are provided in one location. SDP/SI offers off-the-shelf mechatronic components and custom design, engineering and manufacturing services, prototype to large production runs. SI - Sterling Instrument specializes in high-quality precision gears and custom gear assemblies for the most demanding applications. QTC Metric Gears supplies North America with metric gears. Quality Bearings & Components – the bearing marketplace, offers bearings and bearing maintenance equipment. For more information, visit http://www.designatronics.com.