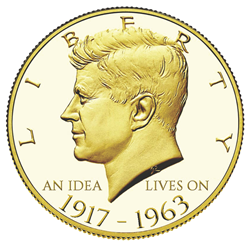 "One person can make a difference, and everyone should try." - John F. Kennedy
Washington, D.C. (PRWEB) June 10, 2016
At a time when vested interests and mainstream media reports seem oriented towards heightening anxieties, as if to justify the prospect of imminent and violent conflict between the United States and Russia, words articulated by JFK in the context of similar circumstances, in his June 10, 1963 American University speech, are as relevant today; of value to be heard by those in positions of political leadership who may themselves be thus prompted towards renewed pursuit of a fulfilled "Strategy for Peace:" https://youtu.be/0fkKnfk4k40
Therefore, Karl Golovin has elected to facilitate public re-hearing on this June 10 2016 of JFK's message from 1963 in perhaps the most visible and temporally relevant of Washington, DC venues: in front of the White House. Moreover, it is anticipated that annual hearing of JFK's "Strategy of Peace" speech will and should continue, from this year forward, on every June 10th, at noon, in front of the White House - until circumstances of peace among the nations preclude needed continuance of such a tradition.
Karl Golovin initiated and since November 22, 2013, has acted to facilitate the "JFK Vigil" peaceable, Constitutional assemblies every May 29th (JFK's birthday) and November 22nd, on the north/ public terrace (facing Watergate) of The John F. Kennedy Memorial Center for the Performing Arts; whereby many join in together petitioning by their presence for redress of various and related grievances, to include: 1) Immediate, un-redacted release of all still withheld JFK assassination-related records; 2) Abolishing, or reining in the CIA to its original, intelligence-only mandate; 3) Ending the intimidation of official secrecy and the violence it perpetuates.
In recent years, during gatherings for the May 29th "JFK Vigils" at The Kennedy Center, a recording of JFK's 1963 American University speech has been played via megaphone in remembrance of and honoring JFK. However, audio replication of the speech during the most recent "JFK Vigil" on May 29, 2016 was precluded out of consideration for both live and pre-recorded Irish folk music then part of an ongoing "Irish Festival" taking place outdoors at The Kennedy Center.
After May 29th, Karl Golovin pursued alternative, timely commemoration of JFK's important and historic speech on June 10th of this year at the exact site of it's historical occurrence, on American University's campus. That practice was long ago initiated and continued for many years by the late political activist and resident of Washington, DC, John Judge: https://youtu.be/CMFVnWRFrSE. However, Karl Golovin encountered administrative complexities not easily solved on short notice, including a request to pay for this use of the venue and to secure liability insurance, as precluded readily accomplishing a June 10th commemoration this year on the AU campus.
Below are poignant excerpts from the full audio recording to be heard tomorrow in front of the White House, the full context of which is found in a transcript of JFK's speech, accompanying this release:
"What kind of peace do I mean? What kind of peace do we seek? Not a Pax Americana enforced on the world by American weapons of war. Not the peace of the grave or the security of the slave. I am talking about genuine peace, the kind of peace that makes life on earth worth living, the kind that enables men and nations to grow and to hope and to build a better life for their children--not merely peace for Americans but peace for all men and women--not merely peace in our time but peace for all time.
"I speak of peace, therefore, as the necessary rational end of rational men. I realize that the pursuit of peace is not as dramatic as the pursuit of war--and frequently the words of the pursuer fall on deaf ears. But we have no more urgent task.
"So let us persevere. Peace need not be impracticable, and war need not be inevitable. By defining our goal more clearly, by making it seem more manageable and less remote, we can help all peoples to see it, to draw hope from it, and to move irresistibly toward it.
"No government or social system is so evil that its people must be considered as lacking in virtue. As Americans, we find communism profoundly repugnant as a negation of personal freedom and dignity. But we can still hail the Russian people for their many achievements--in science and space, in economic and industrial growth, in culture and in acts of courage.
"So, let us not be blind to our differences--but let us also direct attention to our common interests and to the means by which those differences can be resolved. And if we cannot end now our differences, at least we can help make the world safe for diversity. For, in the final analysis, our most basic common link is that we all inhabit this small planet. We all breathe the same air. We all cherish our children's future. And we are all mortal.
"The United States, as the world knows, will never start a war. We do not want a war. We do not now expect a war. This generation of Americans has already had enough--more than enough--of war and hate and oppression. We shall be prepared if others wish it. We shall be alert to try to stop it. But we shall also do our part to build a world of peace where the weak are safe and the strong are just. We are not helpless before that task or hopeless of its success. Confident and unafraid, we labor on--not toward a strategy of annihilation but toward a strategy of peace."
An imminent, unaffiliated, yet tangentially related event is the upcoming visit of the Dalai Lama on June 13, 2016, to the Bender Arena on the American University campus (very close to the exact spot where 53 years earlier, JFK delivered his "Strategy of Peace" speech). The Dalai Lama is speaking on the topic of "A Peaceful Mind in the Modern World." Karl Golovin will be attendance and has offered to facilitate, should the idea be pleasing to the Dalai Lama (and permitted by American University's administrators), hearing of the recorded JFK "Strategy of Peace" speech by the Dalai Lama and other attendees on the actual, historical site of the speech, following conclusion of the Dalai Lama's official AU function at 3:00pm: http://www.dalailama2016dc.com .
Contact: Karl Golovin, P.O. Box 1947, Alexandria, VA 22313
Telephone: (703)599-0567
Email: JFKvigil(at)gmail(dot)com