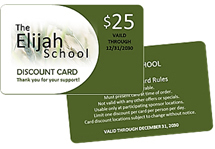 We're committed to being the best all-around partner to our fundraising customers
Ft. Scott, Kansas (PRWEB) June 14, 2016
Printingworx.com, your partner in business printing, announced today they are offering industry leading three day fundraising card printing. The move from standard five day printing production times to three days will help fundraiser card customers better meet the tight deadlines they often face.
Customers still have all of the benefits of ordering online, or offline, from the company. Plastic fundraising cards can be designed and ordered using the online design studio or priced and printed from custom artwork uploaded securely to the site. Either approach results in quality plastic card printing at an affordable price; now completed in three business days at Printingworx.com.
"We're committed to being the best all-around partner to our fundraising customers," said Michael Del Chiaro, founder of Printingworx.com. "Shaving two days off of our printing time will give customers more flexibility in meeting and beating the tight deadlines they often deal with," continued Del Chiaro. "Of course, we will still provide the same great quality, service and pricing that our customers expect regardless if they prefer to work with us via email, phone or online," concluded Del Chiaro.
Three day fundraising card printing applies to CR80 (credit card size) fundraising cards printed on 30 mil white composite plastic material. Full color printing is done on one or both sides of the plastic fundraising cards with, or without, key tags.
Printingworx.com is more than just an online printing company. We form a partnership with our customers to make doing business easy and reliable. We have been in the printing business long enough to have learned this valuable lesson: The relationship we form with customers is the key to our mutual success.
Michael Del Chiaro
Founder
Printingworx.com
Michael.DelChiaro@go2partners.com
(855) 223-0323