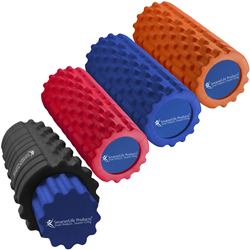 The SmarterLife Products® SmartSport Premium Foam Roller Set is the result of re-thinking the way we exercise so as to maximize the physical benefits while minimizing the wear and tear on our bodies in the process, Co-founder, Tim DePuy, stated
Steamboat Springs, CO (PRWEB) June 15, 2016
SmarterLife Products® LLC [http://www.SmarterLifeProducts.com has announced the market introduction of its newest product, the SmarterLife Products® SmartSport Premium Foam Roller Set, which is now available for sale on the Amazon Marketplace.
The SmarterLife Products® SmartSport Premium Foam Roller Set is an essential accessory for fitness workouts, exercise routines, and physical therapy use.
This innovative product provides two rollers in the set – An outer higher density roller with two contours for more aggressive tissue massage of larger muscle groups and an inner lesser density roller for less aggressive soft tissue therapy and more precise muscle targeting.
Foam rolling is a form of self-myofascial release and massage that targets overworked muscles and is similar to myofascial release practiced by licensed massage therapists, also known as deep-tissue massage. Using a foam roller allows for targeting of specific muscle groups, improves range of motion and performance, breaks up fascia after a hard training session, lengthens muscles to help prevent injuries, corrects muscle imbalances and speeds up recovery time.
The SmartSport Premium Foam Roller Set – just introduced on the major online shopping platforms today – includes many features essential for an effective and safe workout, such as non-slip surface material, the ability to support up to 500 pounds, and extremely high quality workmanship to ensure a smooth, non-abrasive surface that will not scratch, cut or cause abrasions.
As with all SmarterLife Products® health & fitness products, the SmartSport Premium Foam Roller Set is free of latex, PVC, glues, toluene and phthalates. This means that users will not experience skin irritations or rashes, nor experience toxic odors, which are common complaints of other products in this category.
"The SmarterLife Products® SmartSport Premium Foam Roller Set is the result of re-thinking the way we help our bodies recover after intense workouts so as to maximize the physical benefits while minimizing the wear and tear on our bodies in the process. As fitness enthusiasts, we wanted to improve upon the typical foam rollers offered by other companies by improving the workout experience through greater comfort, more effective muscle engagement, and incorporating materials that are good for us and good for the environment," co-founder Tim DePuy stated.
The SmarterLife Products® SmartSport Premium Foam Roller Set is now available for purchase on Amazon.com and for a limited time is being offered at an introductory price. The company offers four color options – red, orange, blue and black.
Included in the box is the SmarterLife Products® SmartSport Premium Foam Roller Set (set of 2 rollers), a high quality travel pouch with drawstring, a bonus eBook "Top 10 Best Foam Roller Exercises You Can Do Today", and a second bonus eBook "The 7 Secrets to Your Ideal Body".
Based in Steamboat Springs, CO, SmarterLife Products® sources or creates the very best eco-friendly health & fitness, travel, and lifestyle products for people who want to live smarter. The company was started when co-founders Jan & Tim DePuy realized that it was hard to find purposefully-made items that were good for people and good for the environment. While available in the marketplace, no one had brought them together into one place, which was the impetus for the creation of the company.