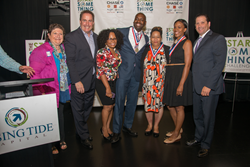 "Whenever I meet another entrepreneur, I tell them about my experience with the SSC. I tell them about my transformation from being a teacher with a dream to an actual small-business owner," Myani Lawson, owner Bergen-Lafayette Montessori School
Jersey City, NJ (PRWEB) June 10, 2016
The 5th Annual Start Something Challenge (SSC), a business pitch competition for New Jersey entrepreneurs will be open for entries from noon on Monday June 13 through noon on Monday June 27. The competition, which has three rounds, encourages and guides small business owners through building their social media presence, expanding their professional network, and developing a tight elevator pitch. Entrants compete for the grand prize – a $10,000 grant for their business.
The competition works as follows: First, entrants create and submit a short video and written business pitch to the SSC website. In the following weeks, they promote their entry and drive up their submission's view count. The competitors with the highest number of views after the deadline will move on to the second round, where the public votes for their favorite businesses. Those who make it to the finals present their business pitches live, in front of a panel of judges.
Participants will initially compete against other competitors in their sector. The five sectors are: Food; Fashion and Beauty; Arts, Crafts and Entertainment; Public, Social and Health; Other Professional Services. In the final round, the top two competitors from each sector are pooled (totaling 10 finalists), to compete for the overall grand prizes.
Aside from the monetary awards (the second and third place finalists go home with $7,500 and $5,000, respectively; there is a $1,000 People's Choice Prize), all finalists who don't place will receive an iPad. Finally, The Start Something Challenge may benefit final round participants with high quality feedback from industry experts and celebrity judges.
"Whenever I meet another entrepreneur, I tell them about my experience with the SSC. I tell them about my transformation from being a teacher with a dream to an actual small-business owner," said Myani Lawson, 2015 third place winner and owner of the Bergen-Lafayette Montessori School. "Having the passion for something will get you started, but I really needed the "know-how" to keep this whole thing going. I got that "know-how" from my experience with Rising Tide Capital and The Start Something Challenge."
Rising Tide Capital, the competition's organizer, is a New Jersey-based non-profit that supports people starting and growing businesses. They offer SSC-specific assistance throughout the competition, both over the phone and in in-person classes.
"Over the past four years, the Start Something Challenge has touched hundreds of business owners throughout the state of New Jersey, and they in turn have used the competition as a platform to spotlight their businesses," said Alfa Demmellash, CEO of Rising Tide Capital. "We want these entrepreneurs to have the confidence to come out and share their innovative ideas with confidence, to start building an audience around what they are doing, and to be able to clearly communicate across various marketing platforms. And this is why the Start Something Challenge has been engineered to be more than a business competition with a cash prize, because even the entrepreneurs who don't win can benefit from this opportunity to grow and strengthen their businesses."
Competitors must submit their video and short written pitch by June 27. More information and details on the competition can be found at StartSomethingChallenge.org, or by calling Rising Tide Capital at 201-432-4316 ext 110.
Important Dates:

First Round Submissions| June 13 – Noon June 27
Start Something Challenge Ambassador Celebration | June 14
First Round Promotion Period| Up Until July
Second Round Kick-off| July 7
Second Round Competition Period| July 11-17
Grand Finale| July 28
The Start Something Challenge Showcase| September 8th
The Start Something Gala| November 1st
Upcoming Classes and Help:

Twitter Party: Start Something Challenge Q & A | June 13
Email Marketing, the Power of the Inbox | June 16
Start Something Challenge Office Hours | June 20
Webinar| Share Your Story: PR for Small Business: June 23
Tutorial| The Start Something Challenge Finalist Pitch Tutorial: July 21
The Start Something Challenge (SSC) is a statewide pitch competition and business strengthening opportunity for New Jersey entrepreneurs. The Challenge is funded by visionary supporters and organized by Rising Tide Capital, a non-profit organization that helps entrepreneurs start and grow successful businesses. Since 2012, the Start Something Challenge has empowered 345 New Jersey entrepreneurs across 5 different business sectors, to collectively generate 120 million media impressions.
To learn more, visit http://www.StartSomethingChallenge.org.
Headquartered in Jersey City, Rising Tide Capital, Inc. is a 501(c)(3) non-profit organization founded with the mission to empower entrepreneurs to create and grow small businesses which transform lives and communities. The organization's vision is to build a replicable model for high-quality entrepreneurial development services that can be adopted locally in other low-income communities.
Learn more at http://www.RisingTideCapital.org
CONTACT:
ESTHER FRASER
Director of Communications
Esther(at)RisingTideCapital(dot)org
(201) 432-4316 ext.106
Press Kit:
http://startsomething.risingtidecapital.org/ssc-2016-media-kit/
Assets & Brand Guidelines:
http://startsomething.risingtidecapital.org/1071-2/