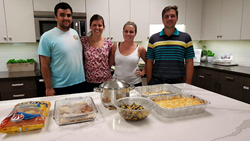 "We really enjoy volunteering at the Ronald McDonald House. It's a great cause and we want to support them anyway we can."
Fort Myers, FL (PRWEB) June 10, 2016
On June 7th employees from Midland IRA, a local self-directed IRA administrator, volunteered their time to make the families staying at the Ronald McDonald House a homemade meal. The Midland IRA staff prepared a three course dinner.
The Ronald McDonald House is a local non-profit that serves as a "home-away-from-home" to many families who have children who are seriously ill and are undergoing medical treatment. The house is a place where families can stay while still enjoying the comforts of home. The Ronald McDonald House includes a full size kitchen and individual bedrooms and bathrooms for the guests to stay comfortably. Most nights volunteers will create a nice dinner for the families to enjoy each evening.
Midland IRA volunteered to make dinner for the families of the Ronald McDonald House. "We really enjoy volunteering at the Ronald McDonald House," says Dave Owens, president of Midland IRA, "it's a great cause and we want to support them anyway we can." The staff at Midland IRA made a three course Mexican themed dinner consisting of corn salsa with chips, cheese quesadillas, chicken enchiladas with Mexican rice, and a guava cream cheese pastry. The Ronald McDonald House had a full house of 12 families that the Midland IRA employees made dinner for.
Midland IRA believes in actively volunteering in the community as often as possible and will be volunteering for the Ronald McDonald House fishing tournament which takes place later this week.
About Midland IRA
Midland IRA is a self-directed IRA administrator that provides tax-deferred and tax-free investment opportunities, superior customer service, and educational tools to assist investors in realizing the maximum benefits possible within IRAs. Midland IRA makes it easy to use self-directed retirement plans to invest in assets that the individual investor knows, understands, and can control. Midland IRA is also a 1031 exchange qualified intermediary. To learn more visit www(dot)MidlandIRA(dot)com.
About Dave Owens
Dave Owens is president of Midland IRA in Fort Myers, Chicago, Miami, Gainesville, New England, and the Florida Panhandle. Owens opened the Fort Myers headquarters in 2003. His background as a certified public accountant, combined with a long history of personal retirement self-direction, provides his audiences and clients with solid advice and practical solutions to their IRA investment questions. Dave holds a BS in accounting from Purdue University. He also earned the prestigious Certified Exchange Specialist designation through the Federation of Exchange Accommodators.