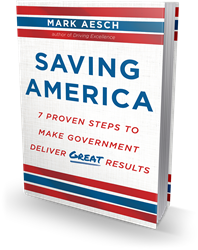 Boston, MA (PRWEB) June 14, 2016
Bibliomotion is thrilled to announce the launch of SAVING AMERICA: 7 Proven Steps to Make Government Deliver Great Results by Mark Aesch (June 14, 2016).
2016 will be a transformative year in Presidential politics – the campaign of a total outsider promising "to make America great again" has caught the attention of a large segment of the population. Three years ago, Mark Aesch started working on a book with exactly that message, only it was tailored specifically to how to actually make government deliver real results. That book, SAVING AMERICA: 7 Proven Steps to Make Government Deliver Great Results (Bibliomotion; Hardcover; June 14, 2016), offers a concrete method for how government on the local, state, and federal level can function more productively.
Aesch is not an academic and this is not theory. The story to make "government great" comes from real, hands-on work that Aesch has done on the government level, including:

Leading Rochester, New York to be able to reduce fares and increase customer satisfaction — the only transit system in America to actually achieve such a feat;
Increasing the Detroit transportation department's customer satisfaction by 44% AND saving them $38 million dollars the year before they filed for bankruptcy;
In Baton Rouge, Aesch's team was able to increase customer satisfaction for bus riders from only 3% to 19% after just seven months.
As we look at government failures like Flint, we are reminded that our elected officials and our government continually fail us through egregious negligence or bureaucratic stasis (or both). It doesn't have to be that way. SAVING AMERICA proves that it is possible to ensure the safety and well-being of our communities, improve upon government services, and be cost effective while doing so.
As the former CEO of the Rochester–Genesee Regional Transportation Authority (RGRTA), Aesch helped transform an agency teetering on the brink of insolvency to one that, during his tenure, operated on a multi-million-dollar surplus while reducing its reliance on public tax dollars, reducing fare prices, and increasing customer satisfaction. Using the Seven Step process that turned the RGRTA into a phenomenally effective agency, SAVING AMERICA offers a coherent, nonpartisan, accessible plan to help local citizens, elected officials, and administrators make American government work again.
By applying private sector principles to implement change in public sector agencies, the Seven Steps approach emphasizes defining and measuring success, creating a culture of ownership on all levels, and holding people accountable for delivering success. Interspersed throughout are examples of companies and visionaries such as Walt Disney and Steve Jobs that embody each Step as well as instances of the consequences of governmental failure, including the 2007 I-35W bridge collapse in Minneapolis.
Presidential election year or not, SAVING AMERICA is essential reading for how to get government back on track.
MARK AESCH is the CEO of TransPro, a public-sector management consulting firm that works with local and state agencies, school districts, and transportation entities across the United States in the development of strategic plans and organizational transformation.
Aesch is also the author of Driving Excellence: Transform Your Organization's Culture - And Achieve Revolutionary Results. For more information, please visit http://www.MarkAesch.com and http://www.TransProConsulting.com.
PRAISE FOR SAVING AMERICA
"Transformational leadership requires a crystal clear clarity on what success looks like and then the courage to make the necessary decisions to deliver it. To truly drive performance, it is not always what is most popular, yet it is always what will deliver positive results." — Hon. Dave Bing, Former Mayor of Detroit, Top 50 NBA Players of all Time
"A great plan – from someone who has done it – not just studied it! Saving America shows how great government can also be great business! This is an important book for our country that can be applied at all levels of government." — Marshall Goldsmith, #1 New York Times best-selling author of Triggers and What Got You Here Won't Get You There
"Mark Aesch has presented insights that every government employee, elected official, candidate for elective office, and advocate for governmental reform needs to absorb. The insights are practical, clear, powerful, and, most importantly, emphasize the importance of courageous and values-driven leadership." — Mike Critelli, Former CEO of Fortune 500 Pitney Bowes
Bibliomotion is a book publishing house designed for the new publishing landscape. While many publishers work to retrofit old processes for new realities, Bibliomotion was founded by book-industry veterans who believe the best approach is a fresh one – one that focuses on empowering authors and serving readers above all else. Moving away from the top-down model that has dominated the publishing process for years, we give each member of the team – including the author – a seat at the table from the very beginning and in doing so, work side-by-side to launch and sell the best content possible, making it available in a variety of forms.