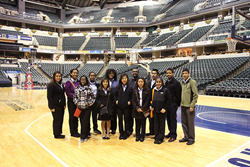 We spend a great deal of time encouraging Scholars to share their experiences with their peers. They are excited about their future and as their excitement grows, their passion for increasing awareness about the CPA profession grows as well.
Indianapolis, IN (PRWEB) June 10, 2016
It may come as no surprise that the CPA profession, like many others, faces a lack of diversity. Studies have shown that successful businesses and professions have work forces that mirror the diverse society we now live in. In order for the profession to thrive and succeed, it needs to become more representative of minorities and different ethnic groups. The diversity issue is not one the Indiana CPA Society (INCPAS) takes lightly.
Six years ago, the Society started the INCPAS Scholars program. Fueled by a desire to ensure there was a profession-wide commitment to increasing diversity, the Scholars program recruits promising minority high school students who have high potential as future CPAs. With programs in Central Indiana and South Bend, the INCPAS Scholars program aims to address the lack of diversity in the profession in Indiana by sparking a passion for accounting and finance early on in minority high school students.
The only one of its kind nationwide, this free year-long program encourages students to consider becoming a CPA by meeting practicing CPAs, touring CPA firms and businesses that employ CPAs, and participating in workshops and themed events throughout the year. This program encourages mentor relationships between the students and CPAs as students are matched with CPAs from a variety of firms and businesses for an up-close look at a CPA's day-to-day life. The emphasis on mentoring allows for the scholars to have role models in the profession who are useful outlets for advice, and to give students the resources they need to complete the very demanding and difficult courses necessary to become a CPA.
"The support our Scholars receive from their mentors is tremendous," said INCPAS Director of Diversity & Outreach Ali Paul. "Even after they officially graduate from our program, they work hard to maintain their relationships with their mentor and often seek out advice from their mentor. Just the other day, one of our Scholars from the inaugural class was working with his mentor to map out a game plan for sitting for the CPA Exam."
Not only does this program aid the students, it is mutually beneficial to firms, as mentor guidance is helping create potential future employees.
"Since we started the Scholars program, the CPA profession in Indiana has embraced the program more and more each year," Paul added. "More organizations are coming to the table, eager to participate."
The INCPAS Scholars program also provides the students with unique learning experiences, as each month of the program has an event corresponding with a specific theme in order to help the Scholars not only gain important skills for their future, but establish long-lasting relationships with some of the most respected CPAs in Indiana.
Events include college and firm visits, dress and dine nights to teach business etiquette, and college prep nights where Scholars and parents meet with various university partners to better understand the admissions process, financial aid issues and common academic pitfalls. Students also get a chance to network with current college accounting majors.
While it may seem like progress is not coming quick enough, 2016 marks a monumental milestone for the INCPAS Scholars program as more than 100 Scholars have now participated and several from the inaugural Scholars class are graduating from college or nearing graduation.
This year marks the first of hopefully many "pay off" moments as one of the original Scholars graduated with a degree in accounting and finance in May and has the 150 hours of education needed to sit for the CPA Exam. Four others have already served in accounting internships. Although it may seem insignificant, even one individual entering the work force can serve as an example for others.
As the program continues, INCPAS is optimistic that more and more Scholars will graduate from college, enter the profession, and diversify the CPA landscape. With 19 former Scholars going to be seniors in college this fall, and 21 going to juniors, this program will continue to serve as a pipeline of diversity for the profession. These students also serve a pivotal role in recruiting future scholars for the program.
"We spend a great deal of time encouraging Scholars to share their experiences in the profession with their peers," Paul said. "They are excited about their future and as their excitement grows, their passion for increasing awareness about the CPA profession grows as well."
This year the Society has 50 new applicants for the program, with goals of selecting at least 30 new Scholars. In five to six years, these 30 new Scholars will hopefully be graduating from college adding even more diversity to the profession in Indiana.
Although there is still much work to be done in terms of diversity and progress is far from instantaneous, the Indiana CPA Society is hoping to make an impact one Scholar at a time.
In order to have a profession-wide commitment, the Scholars program is funded by CPA firm, corporate and university sponsorships. Outside of the financial support, these organizations also provide mentors to the Scholars, participate in office visits and other monthly activities. Since the program's inception, $216,750 has been raised in support of INCPAS diversity initiatives.
Video
See and hear from some of the INCPAS Scholars in this video interview.
Blog
Read or reprint a touching blog post from INCPAS VP – Advocacy Sherrill Rude, CAE as she describes the experience of one INCPAS Scholar and the impact it has made on her life.
###
About the Indiana CPA Society
Nearly 8,100 CPAs in public practice, business and industry, government and education are members of the Indiana CPA Society. INCPAS is the most trusted business resource and advocate in Indiana. Its members are required to abide by the CPA profession's code of conduct. INCPAS members also receive access to quality educational programs and peer networking for knowledge sharing. Society members are trusted advisors to Indiana's business community. INCPAS celebrated its 100th anniversary in 2015. For more information, visit incpas.org.