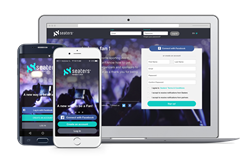 New York, NY (PRWEB) June 10, 2016
On Friday night the curtain will rise on Euro 2016 as host France opens against Romania. The largest edition in the tournament's history will see a record 24 nations play for the title of Europe's best national team. Despite a high demand for tickets across Europe, there are concerns about empty seats in stadiums, as is always the case at large events.
"While sponsors get large allotment of tickets and give them to their stakeholders there are always last minute cancelations. This is where Seaters comes in by capturing first minute demand for a last minute problem." Explains Jean-Sebastien Gosuin, CEO of Seaters.
Seaters, the innovative marketing activation technology engine with offices in Brussels, Paris, London and New York, has built the solution to this problem. Seaters works alongside the tournament sponsors to put real fans in seats that would otherwise go empty due to last minute cancellations and previously reserved but non-distributed tickets.
In 2015, Seaters was selected by Le Tremplin, to participate in their sports technology accelerator located in the city of Paris. Earlier this year, Seaters won the Digital Innovation of the Year award by SPORSORA, the French Sports Marketing Association.
Tournament sponsors do not want to be a source of empty seats and are working with Seaters to get real fans into events they want to attend. To date, Seaters has captured demand for over 100,000 tickets in innovative Wish Lists where real fans sign up to receive otherwise previously unavailable tickets on a first come first served basis. The more tickets that become available from the corporate sponsors, the more real fans have the opportunity to attend their favorite live events.
To get on the list for these tickets courtesy of the sponsors you can sign up at http://www.seaters.com/euro2016 and join the Euro 2016 party. For sponsors interested in how to use Seaters please see us at http://www.getseaters.com
About Seaters:
Seaters is the marketing technology company that aggregates demand for time sensitive/perishable assets. By aggregating demand in advance, Sponsors and Event Organizers have a targeted single source of pre-qualified fans. As tickets become available, Sponsors and Organizers can immediately distribute them with a click of a button.
With Seaters Asset Owners
1. Generate demand to get Sold Out
2. Capture further demand to secure 100% Full House
3. Understand demand with data driven insights
Seaters is fan friendly and does not scalp tickets. No ticket distributed through the Seaters platform is ever higher than face value. Oftentimes sponsors distribute their tickets free of charge to the fan. Fair treatment of the consumer and management of expectations are guaranteed by the patent pending Likelihood Algorithm.
Share the live, fill the empty seats: even at sold-out music or sports events there are always between 1% and 10% empty seats. The main repercussions are frustrated fans and a bad image.
Seaters has offices in New York, Brussels, Paris and London