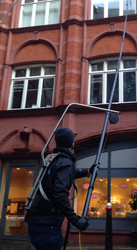 First in the UK to be using the latest technology for high level window cleaning
london (PRWEB UK) 11 June 2016
Following an eventful trip to the recent ISSA/INTERCLEAN show in Amsterdam, Spectrum Window Cleaning's Lucian Ivan and Darran Smith from Purple Rhino were able to get their hands on some of the latest innovations in the cleaning market. They are the first UK based cleaning contractors to begin utilizing these new tools for their workforce.
The most exciting new products that Darran and Lucian got their hands on was the WASPAK solution to some of the problems and strains from heavy use of water fed poles. "It's absolutely genius" said Lucian Ivan after having a go at cleaning some windows using the system, which utilizes a back mounted harness to reduce pole weight by 50%. This reduced pole weight will mean less strain and fatigue on contractors who use cleaning rods on a regular basis, as well as allowing them to more easily maneuver water fed poles. Darran and Lucian acquired the only two available WASPAK systems, bringing them back to the UK to implement on some of their latest projects.
A second pickup by Darran and Lucian was a set of prism glasses; using mirrors, they allow workers to look up at their work without having to lean back or strain their necks. This is a much simpler and more effective way of reducing neck strains than previous neck support equipment.
Lucian has already integrated these new systems into Spectrum Window Cleaning's work on several challenging high level pole, which has met a warm reception from his team.
"You never know what you might find at the ISSA/INTERCLEAN cleaning shows," said Darren Smith. Both contractors expressed pride at being the first ones in the UK to be using the latest WASPAK technology to allow their operatives to work more safely and efficiently, and at being able to discover these new systems to help put them ahead on their future projects.
To view more about WASPAK visit http://www.waspak.com/
To view more about abseil window cleaning visit http://www.spectrumwindowcleaning.co.uk/ and to view more on specialist render cleaning and frame restoration visit https://purple-rhino.co.uk/