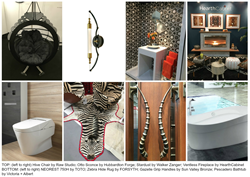 Sloped sophistication has become a leading trend in wooden furniture, introducing the curved profiles of modern designs to classic furniture pieces
Sacramento, CA (PRWEB) June 10, 2016
More than 700 exhibitors displayed high-end luxury designs at the 2016 International Contemporary Furniture Fair (ICFF) in New York City, and the Merlot Marketing team toured the show floor to find the newest trends in home design. This year's dominant trends included sleek modernism, sloped sophistication, safari style and environmentally conscious indoor fire features.
For more than 15 years, Sacramento-based Merlot Marketing has specialized in the luxury home design industry and continues to support its clients at international trade shows such as ICFF. The Merlot team provides insight on current trends in the market, highlighting new concepts and reinterpreted classics from various trade show tours.
Tweet This: Trend report: Sleek modernism, sloped sophistication & safari themes on display at #ICFF2016 http://bit.ly/1TY6c4Z via @MerlotMarketing
"Sloped sophistication has become a leading trend in wooden furniture, introducing the curved profiles of modern designs to classic furniture pieces," said Merlot Marketing CEO and Founder Debi Hammond. "Coffee table legs are looped in circles, as featured by KinoGuerin, and hanging chairs cocoon users for ultimate comfort, like the Hive Chair from Raw Studio. Practical use meets modern sensibility to establish this visually engaging trend."
Another key trend from the show, sleek modernism, is defined in metallic elements that put a twist on a classic aesthetic, such as Stardust from Walker Zanger, a mosaic tile waterjet-cut from lava stone and glazed to create a textured, handcrafted look. Designs inspired by the beauty of nature are prominent in other products, such as the new Victoria + Albert Pescadero tub which features a rim designed to form a distinctive wave. Additionally, the stylish modern trend pairs with innovative technology in TOTO's award-winning NEOREST 750H, an intelligent toilet that provides luxury relaxation, an advanced cleansing process and a cutting-edge flushing system.
Eco-friendly hearths brought a new element to the environmentally conscious movement, and HearthCabinet displayed its distinctive ventless fireplaces which use a safe, clean-burning, gel fuel cartridge system. Other exhibitors at ICFF revealed a stylish way to walk on the wild side with designs influenced by animals you may find on a safari; Sun Valley Bronze demonstrated this with gazelle-styled door pulls, and FORSYTH displayed its signature zebra hide rugs.
Another unique and eye-catching product looks as if it came right out of a literary classic; Otto Sconce by Hubbardton Forge is a lighting feature resembling an undrawn bow. It symbolizes the conversion of potential energy into kinetic energy with the flip of a switch.
Over the past 28 years, ICFF has evolved from a furniture trade show to a premier showcase for contemporary design. It is one of the leading global design events for viewing the latest concepts and collections. To review this year's most noteworthy trends and trendspotting reports from Merlot Marketing, visit merlotmarketing.com/blog.
*Note: Walker Zanger is a client of Merlot Marketing.
About Merlot Marketing
For more than 15 years, Merlot Marketing has helped companies rediscover their brand position through its exclusive REDiscover™ process. Headquartered in Northern California, Merlot Marketing is an award-winning, national agency that specializes in marketing strategy, public relations, social media, advertising and digital communications. Think RED. Think Passion. Discover Merlot at http://www.merlotmarketing.com or call 916-285-9835.
About International Contemporary Furniture Fair (ICFF)
The International Contemporary Furniture Fair (ICFF) is North America's premier trade showcase for architecture and fine interior design. The four-day show attracts more than 700 exhibitors from all points of the globe that specialize in high-end luxury design, and it is attended by more than 32,000 discerning architects, interior designers, developers, retailers, and manufacturers from leading international firms. Exhibitors from more than 30 countries come to ICFF to present the best in contemporary design in the categories of furniture, lighting, carpet, flooring, textiles, wallcoverings, accessories, kitchen, and bath.