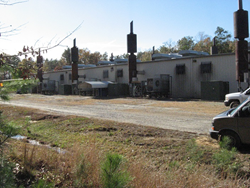 "The GridEdge system enjoys increased production and revenue while not experiencing the intermittent nuisance tripping outages associated with telecom-based systems."
Littleton, MA (PRWEB) June 13, 2016
GridEdge Networks Inc., a provider of innovative grid protection systems used by electric utilities and independent power producers, announced today an alternative transfer trip solution for new and existing renewable generation plants that sell power to the grid.
The transfer trip protection system was developed in partnership with Western Massachusetts Electric Company (WMECO), a subsidiary of Eversource Energy (PRWEB February 24, 2014).
An anti-islanding transfer trip protection system is required for utility scale power generators that directly attach to the distribution grid such as biogas and fuel cell plants, and wind and solar farms.
Many of the existing distributed generation plants use phone based communications systems to deliver the transfer trip. These aging systems suffer from poor reliability that creates nuisance trips causing long outages to the generation facility. These unwanted and unplanned outages result in loss of generation revenue and have a negative effect on the health of the attached generation equipment. Power generation operators are required to make frequent service calls and deal with ongoing maintenance. This problem has been recently magnified by the six week labor strike of one of the national carriers.
The major benefit of the GridEdge Networks solution is its high reliability, relatively low life cycle cost and fast installation process. The GridEdge trip protection system can be installed on existing energized utility lines, requires very minimal ongoing maintenance, and reduces operational costs. It does not require any dependency on third party service providers such as the phone companies.
Nachum Sadan, President & CEO of GridEdge Networks, stated: "The GridEdge solution provides a real alternative to existing operators of renewable generation that have been plagued by poor reliability of phone based protection systems causing loss of generation revenue. This problem has been worse during the recent six week strike that left many operators stranded without technical support. We offer a recovery path that provides quick ROI with an extremely reliable solution that has the lowest life cycle cost in the industry."
Please contact sales(at)gridedgenetworks(dot)com or 978 569 2030 to inquire about solutions for your utility scale Distributed Generation projects that require Transfer Trip Protection.
About GridEdge Networks
GridEdge Networks Inc. is a privately held company located in Littleton, MA, delivering reliable and cost effective transfer trip protection systems to independent power producers and electric utilities. The company's products are based on a unique Permissive Power Line Carrier technology that was developed under the guidance of the largest utility in New England. The Distributed Generation Transfer Trip Protection (DG-TTP) innovation is patent protected under US patent application US-2015-0081126-A1 "Method and System for Distributed Generation Trip Protection using Power Line Carrier Signaling" published on March 19, 2015.