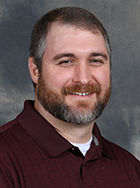 Oklahoma City, OK (PRWEB) June 11, 2016
Oklahoma City-based real estate tech startup CrowdSeekr.com is pleased to announce the addition of Chad Roberts as Vice President of Technology. Roberts, a native of Weatherford, Oklahoma and a graduate of Oklahoma State University and Colorado Technical University, comes to CrowdSeekr with over ten years experience in enterprise data integration. He resides in Edmond, Oklahoma with his wife. Among other duties, he will be responsible for developing technologies to optimize data collection and promote customer engagement.
"CrowdSeekr is a great company bringing additional value to a growing industry. I'm very excited for the opportunity to be a part of it," Roberts said in a recent interview.
CrowdSeekr CEO Ashley Smith looks forward to collaborating with Roberts. "Chad is a very talented and creative developer. We are lucky to have him as our Vice President of Technology," she said.
CrowdSeekr.com is a leading aggregator and search engine for real estate crowdfunding investment opportunities. It was founded in 2015 by e-commerce attorney Ashley Smith and commercial real estate professionals Tim Strange and Marylee Strange. CrowdSeekr currently has listing partnerships with six real estate crowdfunding platforms. Real estate crowdfunding is among the fastest growing segments of equity crowdfunding. Billions of dollars have been raised for real estate projects using crowdfunding since 2013.