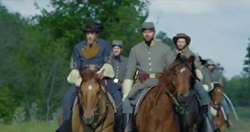 'No one had ever asked me if I could ride a horse and when I looked at the script it was like holy moly; my character never gets off one,' Murphy says.
New Orleans, La (PRWEB) June 10, 2016
Celebrity actor Thomas Francis Murphy (12 Years a Slave, True Detective, Terminator Genisys) is no stranger to stepping outside of his comfort zone for a role. When he picked up the full script for Free State of Jones, he realized portraying Elias Hood wasn't going to be easy. Instead, it would be a tedious and painful process on horseback. "No one had ever asked me if I could ride a horse and when I looked at the script. It was like holy moly; my character never gets off one," Murphy says. He was given some advice by patient and well-respected wranglers that helped him immensely. Murphy said, "The first tip is to wear shoes that can easily slip out of the stirrups, or you may be in for a ride from a position never intended." Murphy admits the role came with some battle wounds. "I ended up throwing my back out, riding with braces (and) going to a chiropractor."
"Another word of advice," says Murphy, "is remember to ride with your legs and not the reigns." A person's legs connect the body to the horse. It's where and how a rider signals intent."
Horseback riding skills were not the only fascinating part of this film for Murphy. He was also captivated by the character Elias Hood. "This is a story about tribal loyalties among other things, and Hood was in the middle," states Murphy. The role helped remind him to empathize with those overwhelmed by circumstances that were not of their choosing. It leads to them lashing out, doing what they believe is right for their situation.
He views Hood "like a man without a country." Without any loyalties in a time of clashing tribes, he wasn't aligned with the interests of the planter class. To toss his character further into dissonance from those around him, Hood saw himself as a soldier above all. Murphy says he can relate to his character as they are both older and have unfulfilled ambition. "This can lead to a certain arrogance and narrowness of vision," he confesses. "On some level, he believed he had been tasked with protecting his world—his view of the world—from descending into chaos."
About Thomas Francis Murphy: While living in Little Rock, AR, Murphy decided to take an acting class. The course changed his direction in life and acting became an enduring preoccupation. He spent over 20 years on the East Coast with a paintbrush in one hand and a script in the other while pursuing a career in the theater. He picked up a degree along the way and trained with Shakespeare & Company of Lenox, Mass., then spent years performing in off-Broadway houses in New York where his work in the plays of Sam Shepard garnered high praise in the New York Times and several other publications.
Murphy moved to New Orleans in 2013 and performed opposite many of Hollywood's A-list actors including Woody Harrelson in True Detective, Chiwetel Ejiofor in 12 Years a Slave, and Keanu Reeves in The Whole Truth. Murphy also has principle roles in the soon to be released Free State of Jones with Mathew McConaughey and Same Kind of Different As Me with Greg Kinnear and Renee Zellweger, and was a somewhat series regular on Salem. He has appeared on American Horror Story, and a host of other projects.