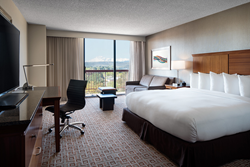 Denver, Colo. (PRWEB) June 13, 2016
DoubleTree by Hilton Hotel Denver Tech Center is pleased to announce the recent completion of their total hotel renovation this spring, just in time to welcome summer guests looking to stay in style. With the hotel's complete transformation, the atrium, guest rooms, hospitality suites, lobby, meeting rooms, junior suite, presidential suite, and Zink Restaurant + Bar all received major upgrades and enhancements.
"The reimagining and transformation of our hotel includes every aspect of the guest experience, adding a contemporary style, fresh design, and modern technologies into each room and public area," said Aaron Alberding, General Manager at DoubleTree by Hilton Hotel Denver Tech Center. "We are excited to showcase our new hotel to guests and business partners in the coming months, and elevate the Denver Tech Center as a destination for Denver travelers."
Experience the hotel's renovation via new hotel photography.
Specific enhancements include the hotel's lighting, carpeting, furniture. The Atrium has been transformed into a common area for enjoyment, complete with upscale décor, a variety of seating options, multiple HDTVs, and a full service bar. The Lobby renovation included opening up the space to allow for casual seating by the fireplace, working on Mac and PC computers in the new business center, or catching the news or a game on the new 85-inch flat screen HDTV. All guest rooms, including suites, had a floor-to-ceiling renovation, with new carpet, bedding and furniture, completely transforming these rooms into the largest renovated rooms in the Denver Tech Center. Zink Restaurant + Bar's renovation included raising the ceiling to include more lighting, adding additional outdoor seating and opening the bar into the Atrium for a more open, welcoming feel for guests. Great things await at DoubleTree by Hilton Denver Tech Center; find out for yourself by booking your stay today.
Reservations can be made by contacting the friendly staff directly at 303-779-6161 or by visiting the hotel's website, http://www.doubletreedenvertech.com.
The Award Winning DoubleTree by Hilton Denver Tech Center hotel is a full-service hotel that provides guests with everything they need for a quality hotel stay. Hotel amenities include fitness center, fully equipped business center, 20,000 square feet of meeting space, an indoor and outdoor pool and complimentary wireless Internet. Guests can also enjoy the hotel's on-site, award-winning restaurant, Zink Kitchen + Bar. The DoubleTree by Hilton Denver Tech Center hotel is proudly managed by Stonebridge Companies in Denver, Colo.
Founded in 1991 by Navin C. Dimond, Stonebridge Companies is a privately owned, innovative hotel owner, operator and developer headquartered near Denver. Its diverse listing of properties includes select-service, extended-stay, mid-scale and full-service hotels in markets throughout the U.S. For detailed information, visit the website at http://www.sbcos.com.